Thanksgiving: Maldivian Style
If you ever find yourself in the Maldives …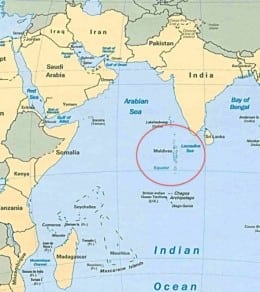 I would highly recommend eating at the Ithaa Undersea Restaurant located at the Conrad Hilton Maldives resort on Rangali Island not only for its finest-of-fine dining, but also for the tropical aquatic scenery and friendly service.
Here is an up-close-and-personal photo of our neighbors, Bluestripe Snappers, as we dined:
The menu is fixed for each seating and is switched up regularly.
1st course: fresh green pea soup, sage butter capellini, tomato confit, chamomile
2nd course: green mango and papaya salad, seared sea scallops, carrot mousseline watercress and organic olive oil
3rd course: grilled reef fish, lemon mashed potato, sautéed young kale tomato lemongrass essence
dessert: 57% dark chocolate mousse, rice crispy base & Valencia orange parfait
For a live tour experience of Ithaa Undersea Restaurant, check out this YouTube video.
For the most recent reviews of Ithaa, check out Trip Advisor.
Fun fact: Ithaa in the local language of Dhivehi means mother-of-pearl.
You won't be disappointed!
It wasn't turkey, but we were happy to have Thanksgiving dinner-Maldivian style at Ithaa Undersea Restaurant.