GHOST BOYS by Shenaaz Nanji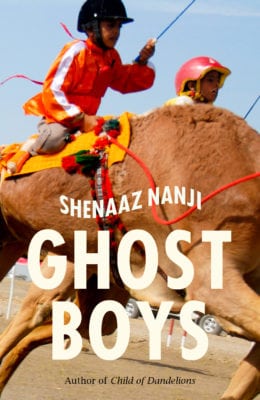 Today I welcome Shenaaz Nanji to World Reads, a blog that features interviews with authors who've written a story set outside of the United States for children or young adults. Shenaaz has written Ghost Boys, (Mawenzi Press, 2017) targeted for young adults (12-18). 
Where is Ghost Boys set?
Partly in India but mostly in the desert in the Middle East.
Ghost Boys is about a … 
Fifteen-year-old Munna is determined to end his family's misfortunes, but is lured into a dream job in the Middle East, only to be sold. He must train young boys as camel jockeys at the Sheikh's farm in the desert. He must starve these boys so they remain light on the camels' backs and win the Gold Sword race for the Sheikh. In despair, he realizes that he is trapped.
To read what others are saying about Ghost Boys, check out the National Reading Campaign, UManitoba, Maria Zuppardi's blog, and Amazon. 
How are you connected to the setting of Ghost Boys? 
I visited the Middle East three times. In my first visit, I was stunned by the glitter and glamor of modernized cities of soaring skyscrapers only to learn later that it is the brightest lights that cast the deepest shadows. I had read that little boys 4 to 6 years old from poor families in South East Asia were smuggled or sold as jockeys in camel races in the Middle East. So one day, early morning before sunrise, I visited the Racing Track outside the city and watched a camel race take place. I managed to talk to the camel trainers, who said they came from Bangladesh.
Later, I watched the documentary movies by B.B.C. and C.B.C. I scoured the international newspapers that reported on camel jockeys and followed very closely the news postings in the UNICEF's website. I learned the most from The Sport of the Sheikh on H.B.O in which a journalist, David Higgs and Ansar Burney, a Human Rights lawyer in Pakistan, secretly visited the camel camps in the Middle East with a hidden camera and showed the world the horrors of camel-slave jockeys. 
Check out the book trailer of Ghost Boys.
What inspired you to write Ghost Boys?
I saw images of little boys, around 4 years old, in racing body armor and helmets but bare feet, working in the blistering heat of the desert, and was horrified. I read the news clips of the injured camel-slave jockeys who were sent home, some had one leg or one hand, but most of them had scars. One boy lifted his tee shirt to show a long scar of crude stitches that ran from his chest down to his leg saying, I wish there were no camels in this world. Another injured boy kept nodding off to sleep during a group therapy session. The doctor consoled the boy saying: Soon you will be able to sleep on your mother's lap. The boy looked blank. What mother? he asked. He had no idea who a mother was. These words and images lingered in my mind, turning into ghosts inside of me, haunting me, refusing to rest until I told their story.
What was the biggest challenge you had writing Ghost Boys? How did you overcome it?
One of the most difficult element of the revision of the story was that the character of Barbur overshadowed the protagonist, Munna. The challenge posed to me was: how do I evoke sympathy in little Barbur yet tread carefully and not allow him to overshadow Munna?
It was hard to tone down the character of Babur. I had to remind myself that it was Munna who made the big sacrifice by dropping out of school, giving up his Big Dream of being a Bollywood actor, and venturing in a foreign country to save honor for his family. It was Munna, who did his best to be Babur's big brother and prolonged his stay at the ousbah or camel camp. Later, it was Munna again, who influenced the other camel boys to stop bullying Babur. In the Gold Sword Race, I made sure to show that Munna refuses to pair up Babur with Kismet, the fastest racing camel, out of concern for Babur's life.
What kind of story can we expect next from you? Is it set outside of the United States? If so, where? And what is it about?
The next story I am working on is a work of imagination inspired by elements of Shakuntala's myth from the Sanskrit poem, The MahaBharat in India. The story is told from the point of view of a 11-year old boy Bharat, the son of Shakuntala. The MahaBharat consists of 18 volumes compiled from 400 BC – AD 400. The epic poem is about the saga of five exiled royal and heroic brothers in India.
What else would you like us to know about you or Ghost Boys? 
There are two main things I would like readers to know about Ghost Boys.
First, that there was no way Munna in 'Ghost Boys' could 'connect' to the Sheikh except through an expatriate. In the Arab world, 'white' expatriates generate greater influence than Indian migrant workers from South East Asia. People in the Middle East are treated depending on their race and the country of their origin. Preferential treatment is given first to the Arabs and then to European expatriates.
Second, due to the grim story I had to consider the emotional vulnerability of young readers at the end of the story. I strongly believe that stories for young readers must retain some hope for a better world.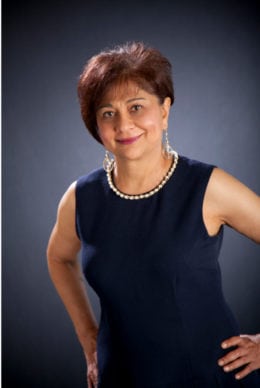 Can you remember the first book that made an impact on you? And why?
Cry the Beloved Country by Alan Paton. I read the book for English Literature in Grade 9 in Kenya. The story is set in South Africa, a country of many races, languages, and classes. The story deals with both a personal tragedy, a deeply moving story of two fathers having the worst experience of their lives, as well as on a national tragedy – apartheid system. I loved Paton's writing style: short, concise sentences yet lyrical and evocative of time and place. It is a story of love and hope and forgiveness. 
Where can readers go to learn more information? 
Watch HBO in The Sports of the Sheikh.
Watch the documentary movie, The Weeping Camel and The Desert Riders.
Refer to old postings in the UNICEF website and the Sources list in Ghost Boys.
To learn more about Shenaaz, check out her website. Thank you Shenaaz Nanji for joining us at World Reads!