from the publisher: GOOSED! by bill wallace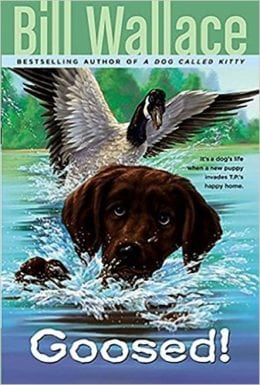 Dog Reads is a blog that features children's books with key dog characters. Sometimes an adult dog book sneaks in but for the most part Dog Reads aims to help kids, their parents, teachers, and librarians find dog books.
From the publisher:
One dog too many
T.P. is Jeff's dog. Jeff is T.P.'s boy. That's the way T.P. likes it. Life is pretty good — until a stinky, thumping, yapping box turns up at the front door. Jeff's friend Mandy has given Jeff a chocolate Lab puppy. They name her Mocha, and everything changes for T.P. Mocha drives him nuts with her endless chattering and questions. On top of all that, everyone keeps telling him to "be nice to the puppy." If only things could go back to the way they were before….
But when Mocha gets "GOOSED," will T.P. have the courage and compassion to come to her rescue?