Q and A with Sherry Weaver Smith: SEARCH FOR THE HIDDEN GARDEN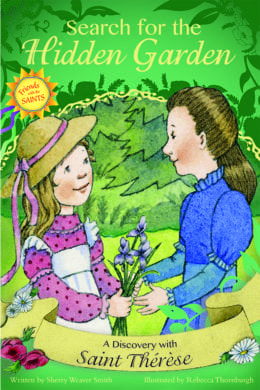 Today I welcome Sherry Weaver Smith to World Reads, a blog that features interviews with authors who've written a story set outside of the United States for children or young adults. What is the title of your book? The pub date and publisher? Genre? Targeted age group?
Search for the Hidden Garden: A Discovery with Saint Thérèse, Pauline Books and Media, August 2016, Ages 8-12, Rebecca Thornburgh Illustrator
Where is it set?
Lisieux, Normandy, France
In 70 words or less, provide a succinct plot description of your story.
In a school in France, a ten-year-old girl finds a treasure map to a hidden garden and four special trees inside. With the help of her friends and a prayerful older girl, Thérèse, she works to uncover the mystery. But when she leaves one classmate out of the adventure, danger comes to the garden. Can Thérèse help Charlotte to understand the real mystery—and will it protect the trees?
How are you connected to the setting of your story?
First, I am connected to the setting since it was the home of St. Thérèse. Although she spent almost her whole life in the town of Lisieux, and the end of it in just one building, a Carmel or convent, she believed she was helping the whole world through her prayers. Just as reading this blog or books about the world connects us to different cultures, Thérèse really did feel that her faith was relevant not just to the Sisters she knew, or people in Lisieux, or in France, but everyone in the whole world. So in writing, I have had to have the belief, that although I could not be in France, I could somehow describe the place and time of Thérèse by reading research and her autobiography.
Second, I received the great gift of gaining ideas from Genevieve Sauvage, a curious and delightful French citizen who has spent many years sharing French culture and language with all who are interested. She is married to my father-in-law, the grandfather of my twelve-year-old daughter. The couple lives in France, and Genevieve shared many nuances of French language, customs, and nature with me to add to my prior travels in the country.
What inspired you to write this story?
I started to become inspired to write the story as a search for a hidden garden and as a treasure map when I began reading The Story of a Soul by St. Thérèse, which is her autobiography. On a huge piece of paper, I wrote and drew beautiful images and words from the book, such as an apricot, "fields enameled with cornflowers," fir trees, the swing at her childhood home, and swirls of snow. What I created from her words looked like a garden full of fruits and fun places for children.
Then one afternoon, a friend of my daughter brought over a treasure map she'd found at a garage sale. As the two girls started making up stories about the dusty map and began digging in my backyard, I looked at what I'd drawn and decided on a plot for my own story.
What was the biggest challenge you had writing your story? How did you overcome it?
The biggest challenge was that St. Thérèse became a nun at the age of 15. When she went into the monastery, she didn't speak with many people in the outside world. My characters are children so for them to become friends with her, Thérèse would need to be quite young, too. But as a child, she wouldn't be able to share much of her spirituality. I overcame this by making Thérèse age 15, just at the point of almost entering Carmel. In the novel, she shares some of her core ideas, but of course, historically she hadn't created most of her theology by age 15.
What kind of story can we expect next from you? Is it set outside of the United States? If so, where? And what is it about?
Yes, I am working on another "Friends with the Saints" story set outside the United States, this time in Norwich, England, a country I'm most comfortable with out of the three I've written about.
The novel doesn't have a title yet. Set in the medieval period, a young girl tries to save her family's bakery (targeted by a shady guild) by going on a quest set by holy woman Julian of Norwich, but her friend, the son of a fisherman, inadvertently causes disasters when he tries to help.
What else would you like us to know about you or your story?
In Search for the Hidden Garden, a gardener who works at a large mansion, Jean-Marc DuBois, created the map and planted all the flowers and trees for children to solve and enjoy. Many years later, when Charlotte finds the map, Monsieur DuBois has lost much of his memory, and the garden itself becomes his history, a way of showing what has been important to him.
My Uncle David inspired this character. My uncle didn't have any problems with his memory, but he passed away at a young age, much too young. Still many children remember the model train displays he created to share with everyone each Christmas on his land in a rural area of Ohio. Beyond books, there are so many creative ways to share with, and inspire, children—holiday lights, the sets of school plays, the food and games at backyard birthdays.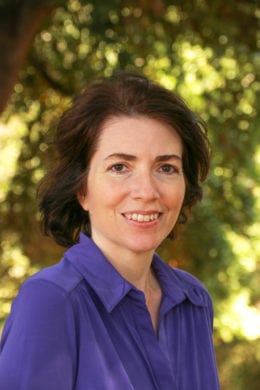 Can you remember the first book that made an impact on you? And why?
Yes, I love Where the Red Fern Grows since it evokes a sense a place in a poignant way. I didn't have a dog as a child (I had a cat), and I never had to move to a different home. But I still understood the beauty of a red fern shading the graves of two beloved pet dogs when a boy has to leave that place behind when his family moves. The title of Where the Red Fern Grows points to the way places can hold memories. As a writer now, I'm still looking for red ferns. I've written a series of poems for adults about graveyards that wonder about the stories memorialized there.
Readers can learn more about Sherry Weaver Smith on her web page or by following her on Twitter. Thank you Sherry Weaver Smith for joining us at World Reads!