Q & A with Linda Bailey: STANLEY AT SCHOOL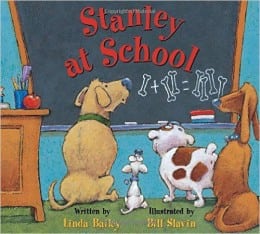 Today I welcome Linda Bailey to Dog Reads, a blog that features interviews with authors who've written a canine story for kids or young adults. Linda, please share with us the title of your book. Pub date and publisher? Genre? Targeted age group? Illustrator?
My book is Stanley at School, published by Kids Can Press on August 1, 2015. The illustrator is Bill Slavin, and the targeted age group is 4 to 8.
Who is your key dog character(s) and what kind of dog is he/she? Feel free to list as many different breeds or mixes as necessary. Tell us a little more about him/her.
Stanley is a barrel-chested, goofy-looking dog who is probably a golden lab. (He looks like a lab to me, but the illustrator, Bill Slavin, maintains that he's a mutt!) Basically he's a dog who, in observing his people, has noticed that they seem to have an easier life than he does. In response, he sometimes tries to nose his way into the "people" world — climb onto their couch, throw a party while they're out, ride on their skateboards, etc. These ideas tend to get him into a lot of trouble.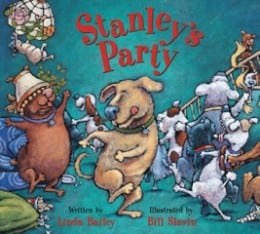 Stanley reminds me of my childhood dog, Megan. She was also a yellow lab/golden retriever mix. I think most kids have had a dog like this in their life in one form or another and will easily be able to relate to Stanley.  In 70 words or less, provide a succinct plot description of your story.
Stanley is curious about the school on his street. What do the kids do there all day? His pals are also curious, and together they manage to push past the big front door. Four dogs loose in an elementary school? Chaos follows as Stanley and pals empty lunch boxes, chase basketballs, and knock over instruments and paint pots. They end up, of course, in the principal's office. As Top Dog of the school, she marches them firmly outside.
Review from Kirkus.
Check out the book trailer!
What inspired you to write this story?
Stanley at School is the sixth in an award-winning series that started with Stanley's Party in 2003. In the years since then, I have presented the books in hundreds of schools. As part of my presentation, I always ask kids if they have any ideas for a new Stanley book, and the idea that has come up every single time is . . . Stanley at School. Kids wanted the dogs to come into their world! It took ages, but I finally figured out how to make that story work.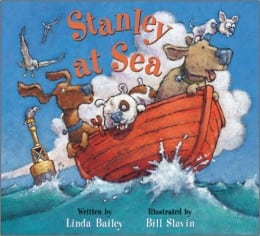 What was the biggest challenge you had writing your story? How did you overcome it?
My biggest challenge was fitting the story into 32 pages. I discovered that a LOT can happen when four dogs get loose in a school. I tackled this challenge by "compressing" the school-wide chase (through gym, music room, art room and into principal's room) into a 2-page spread. Bill Slavin was brilliantly able to fit it all into the art. A miracle!
What other YA/MG books have you written? Do any of them feature a key dog character? If so, which ones? What are these stories about?
I have written 29 books altogether. Five of them feature the same dog as Stanley at School. These books are: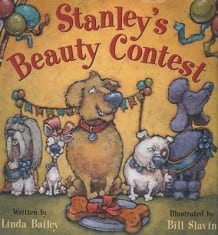 Stanley's Party. Stanley starts by climbing onto the couch and ends up hosting a huge dog party.
Stanley's Wild Ride. Stanley and pals break out of their yards and go on a night-time ride on skateboards.
Stanley at Sea. Searching for food, Stanley and friends wander onto a rowboat and end up heading out . . . to sea!
Stanley's Beauty Contest. Stanley's people make the mistake of entering their irrepressible pup in a dog show.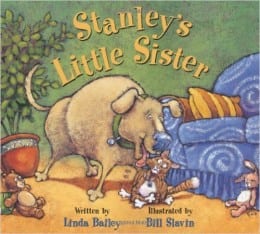 Stanley's Little Sister. Stanley's people bring home a new pet — a small but feisty cat. Stanley is not happy to have a new "sister."
What kind of story can we expect next from you? Is it about a dog? If so, what is it about?
My next picture book, coming out October 13, is When Santa Was a Baby. No dogs in that one, but you may spot a few hamsters and reindeer.
That story sounds so fun! What else would you like us to know about you or your story?
I adore dogs, and the Stanley books were inspired by my own dog, Sophie. Sophie is, sadly, no longer alive, but she was a beautiful golden retriever and a terrific pal. She was also a wonderful clown who made me laugh every day and enabled me to write six funny books about a literary dog named Stanley.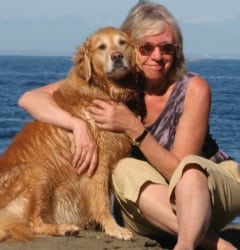 Can you remember the first book that made an impact on you? And why?
The first books I read (in early grades) were the Freddy the Pig novels by Walter Brooks. It featured a barnyard full of animals who had the most incredible, complicated, hilarious adventures. I just couldn't get enough of them.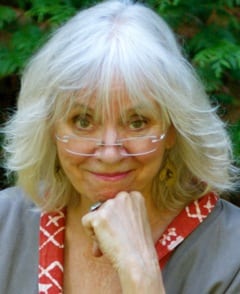 What advice would you give to aspiring writers?
Read. Whatever genre you are writing in, read the very best of that genre. Read for the magic and for pure enjoyment. And then read it again analytically, as a writer — trying to figure out how the author accomplished that story that sings on the page.
I give aspiring authors the same advice. Sometimes books were my best teachers. Readers can  find out more information about Linda and/or her books here.
Thank you, Linda Bailey for joining us at Dog Reads! Be sure to look for Linda's fun picture books for the dog-loving kids and parents in your life.