Q & A with Karen Stanton: MONDAY, WEDNESDAY AND EVERY OTHER WEEKEND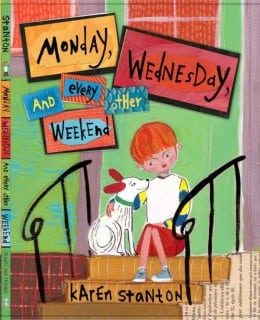 Today I welcome Karen Stanton, my friend, neighbor, and daughters' former school art teacher to Dog Reads, a blog that features authors who have written a dog story for kids. We also have the luxury of learning about the art behind this delightful picture book because Karen is equally talented in illustrating as well.
What is the title of your book? Publisher, genre and targeted age group? 
The title of my book is Monday, Wednesday and Every Other Weekend, a picture book for children ages 3-6. My publisher is Feiwel & Friends, an imprint of Macmillan Group. This is my third published picture book, but my first with Feiwel.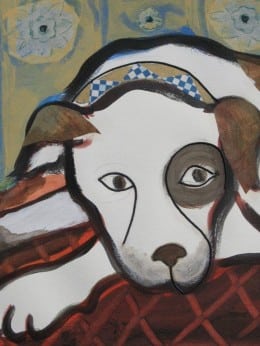 What is your story about? 
My story is about a boy named Henry Cooper and his dog Pomegranate who live with Mama on Monday, Wednesday and every other weekend. On Tuesday, Thursday and every other weekend, they live two and a half blocks away with Papa. Henry finds comfort in both houses, but Pomegranate feels differently. He is the heart of the story.
How did you come up with the story idea? 
All of my stories (at least the ones I have sold) seem to come from the same place. From my relationships. Often it is only a word or a feeling that plants the seed for the story. With Monday Wednesday, the inspiration came from my nephews Cooper and Henry. The story is about how a child (and his dog) find their bearings in the world after their lives change from divorce. My nephews went through their parents' divorce when they were very young. I got the idea for the story in a particular moment after a day at the beach with my son and my nephews. The word that inspired the book, was a word that was missing from my nephew's vocabulary that summer. The word was "home." I find that good books usually make you feel something strongly; happiness, fear, wonder or even pain. Writers have to follow that feeling and look for the story. That's what I tried to do with this book.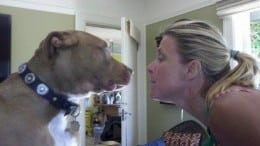 What kind of dog is featured in your story? 
My brother and his wife had been competitive dog sled racers in Northern Michigan. They had 19 dogs at one time. So my nephews grew up with LOTS of dogs. The story of Henry Cooper is fiction of course. Nothing in the story resembles the real life of my nephews except for the emotional journey (the most important part of any story I think). Pomegranate is not a Huskie! He is a made up kind of dog. What dog has red ears? Of course, a dog named Pomegranate. The reason he has red ears and a black and white body is so that he can be easily spotted within the colorful spreads in the book. Pomegranate is inspired by a few dogs that I have known and loved.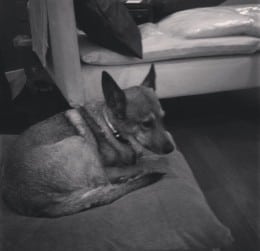 1. My grand-dog Lido (a pit-bull mix) is a digger and an extremely loyal family dog.
2. Yudi (the main character of my first book Mr. K and Yudi) is a clever, run away Jack Russell Terrier.
3. My childhood dog Ginger was a West Highland White Terrier who slept in my bed and had lots of dreams. She was also a gifted escape artist.
4. Petra, my best friend's Canaan dog, who has a collection of toys she doesn't like to share.
Pomegranate is a combination of all those dogs. And he is critical to the story of Henry Cooper. I couldn't have told the story without him.
What is it like being an author and illustrator? Did the story come first or the images of your characters? 
Creating books for children is a really fun job. I love it. With this book, the words came first. Then I sketched out a dummy to imagine what images I could use to tell the story. Picture books are a marriage of image and words. They can't be separated. I work back and forth to find the balance between the two. Usually there are way too many words to start. The pictures help to tell the story without so many words. Monday Wednesday and Every Other Weekend is my shortest book. It has about 400 words.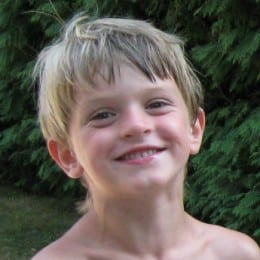 What is your step-by-step process from start to finish for illustrating a book? How long does it take you to create one book?
It can take years, unfortunately. I once heard Maurice Sendak say it took him 12 years from idea to finished book for "Where the Wild Things Are." Hey, I'm not at all surprised. But assuming I have the story pretty solid and a rough dummy, that is what I use (along with a sample art and a link to my portfolio) to sell a book to a publisher.
Here are the steps after that:
1. Editing comments from editor. Refining the story and images. Getting them just right in this dummy form. I say it is like a soup that you need to simmer to get the right consistency and the right balance of flavors. It takes time and some good feedback from a good editor and art director.
2. The overall size of the book is confirmed and the art director sends me spreads with the text in the rough location from the dummy.
3. I work at a larger scale. Usually something like 165%. So I lay out my spreads on the prepared paper and start creating the art. My medium is acrylic paint and collage.
4. As I make progress, I send scans to ask for feedback and advice. I make changes as required for consistency. It took me 6 weeks of regular working days to finish all the art and the cover for Monday, Wednesday and Every Other Weekend.
5. I sent all the finished art to the art director a little less than a year before the actual pub date of February 2014.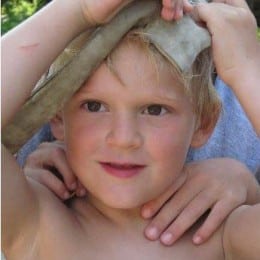 How do you come up with the images you create? How much freedom do you have? What role does the publisher's art director have? 
I think it's different with each publisher. Both Children's Golden Books and Feiwel and Friends hired me because they liked my colorful style. I expected to be visually edited more than I was (I had a pink road and a lime green house). But the art directors in both cases were very open to my style. Most of their feedback was to help make the pictures read well. They pointed out places where the main character was looking too small or lost. April Ward was my art director/ book designer for Monday Wednesday and she did a great job designing the cover and the jacket flaps. I can tell she had a lot of fun. And so did I.
How much research goes into the dogs that you create? How do you find your dog models? 
For Pomegranate I didn't use a dog model. My style is not so realistic that I needed that. But with my first book, I did use a model. It took me awhile to find the right dog. The real dog who inspired the story was no longer living, and he wasn't exactly like the fictional dog I had envisioned for the book. I
noticed a photo of a dog behind the counter at Dick Blick when I was buying paint for the book art. It was the manager's little Jack Russell, Boris. He was the perfect dog. I brought the dummy out to their property in Contra Costa and her dog posed in every position I needed for the art. I took pictures. Later I used my friend Susan's Jack Russell Monty to do some extra poses. It was really helpful to get to know the dog's physique.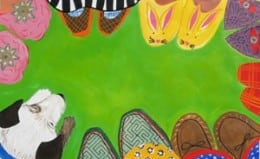 Writers constantly revise their work before it gets published, how many revisions do you do on average before your art is finalized? 
Lots. And lots. With the writing and the dummy (sketch art). Less revisions with the final art. The end of this story was the hardest thing to nail down. I knew the emotional end of the story and the action end of the story. But finding the words and images to tell that ending took a lot of work. Jean Feiwel, the publisher and my editor Liz Szabla were very helpful. Writing about divorce from the point of view of a young child is a sensitive thing. Jean felt strongly that some of my early drafts were too painful, too sad. I didn't always agree. But we all agreed that the story is about a child whose parents separate, love him and stay separated. The trick was to show it and say it without too many words. And to end the story in a satisfying way. I think the solution we came up with is a good one. I am really happy with the end of the book.
Pomegranate is the most important character in the story. He carries the emotional and the action arcs in the book. I always felt that Pomegranate was the heart, the longing for "home" in the story. And that his actions are what propels the story forward. He helped me tell a story of a young boy learning to redefine "home" after his parents' divorce. It's painful, but it is life. Kids have to move from one house to another. So do dogs. And it's not an easy adjustment. You have to read the book to get to know Pomegranate. He's a very good dog.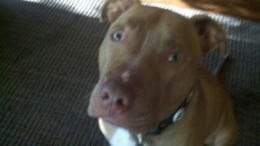 What do you enjoy most about creating illustrated books? 
Color. I love paint and I love collage. It shows Karen. I love all the vibrant colors!
What is your biggest challenge creating your art? And how do you overcome it? 
I don't really like painting people. I prefer fish, birds, dogs, architecture, flowers, trees. Making Henry Cooper look like the same boy in every spread, and making him always looks the same age too, was hard for me. I didn't always enjoy that. My next book is about fish.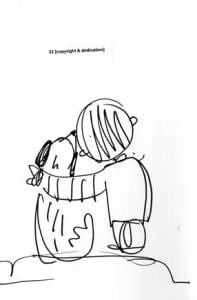 What kind of training does one generally need to illustrate books? How did you break into children's books?
I had a very unusual road to writing and illustrating books for children. I went to school for architecture and practiced for a few years before I finally admitted that I didn't really like it. I took a few classes at UC Berkeley Extension (one was with my friend Marissa Moss) and learned about children's books. Not too many years later, I sold my first book to Children's Golden Books. I taught Children's Book Writing and Illustration at City College San Francisco for several years until I moved to Spain where I am living now.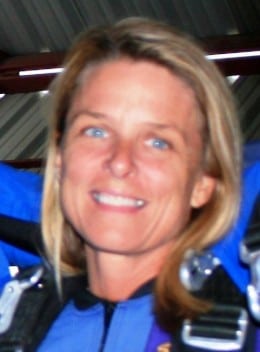 What advice would you give young people (or adults!) interested in a career as an illustrator? 
1. Perseverance. Lots of people say they want to make a book, but very few people have the follow through to keep going to the finish line. It requires facing rejection. Failure is a requirement. It's just part of the journey.
2. Look at a lot of great work. Use Pinterest or some other method for organizing your inspirations. Read a lot.
3. Put in your time. Or as my friend Naomi Epel advises in her book Observation Deck, "Ribe tuchus." Keep your butt in the chair.
For more information about Karen Stanton or a look at her art, please click here. 
Thanks for joining us Karen Stanton and good luck with the launch of your picture book, Monday, Wednesday and Every Other Weekend.