Q & A with Christy Hale: DREAMING UP: A CELEBRATION OF BUILDING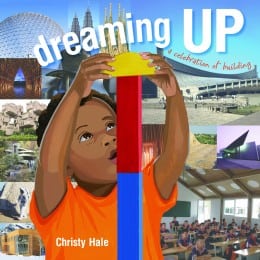 It gives me great pleasure to welcome Christy Hale to World Reads, a blog that features interviews with authors who've written a story set outside of the United States for children or young adults.
What is the title of your book? The pub date and publisher? Genre? Targeted age group?
Dreaming Up: A Celebration of Building
2012, Lee & Low Books; Non-fiction/Poetry
Interest level K-5; Reading level, Grade 3
Where is it set?
The featured buildings and architects are selected from locations around the world. The buildings are from:
USA
Malaysia
Egypt
Japan
Spain
Canada
Germany
Colombia
China
England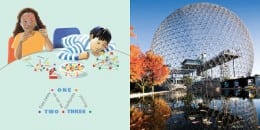 In 70 words or less, provide a succinct plot description of your story.
This celebration of building is a collection of illustrations, concrete poetry, and photographs that shows how young children's constructions, created as they play, are reflected in notable works of architecture from around the world.
Links to reviews:
The Classroom Bookshelf (lessons included)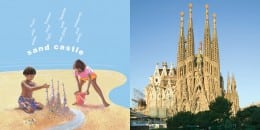 Awards
Children's and Young Adult Book Award Honor: International Reading Association (IRA)
2012 California Book Award finalist
Read! Build! Play! Summer Reading list of Books that Inspire Play: ALSC and LEGO
Nonfiction Honor Winner: Boston Globe-Horn Book Award
Notable Children's Book: American Library Association (ALA)
Fanfare 2012: Horn Book Magazine
Best of the Best 2012: Chicago Public Library
Best Books of 2012: Kirkus Reviews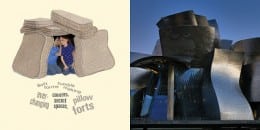 "Starred Review" Horn Book Magazine
"Starred Review" Kirkus Reviews 
2014 Kentucky Bluegrass Master List
Best Children's Books of the Year: Bank Street College of Education
Silver Bells Honor List: Colorado Libraries for Early Literacy Bell Picture Book Award
Eureka Honor Award: California Reading Association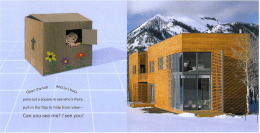 How are you connected to the setting of your story?
I lived in NYC and frequented the Guggenheim Museum. I visited La Sagrada Familia in Barcelona. In grad school I took a Modern Architecture Art History class and became acquainted with some other buildings featured in this book.
What inspired you to write this story?
A germ of an idea began when I saw the sand-colored fluid turrets of La Sagrada Familia and was reminded me of a sand castle.
I lived in Brooklyn for many years and often visited museums. After my daughter was born and began playing with stacking rings I saw the Guggenheim Museum with new eyes, as an inverted stack. When she started block play I was reminded of art history class, seeing slides of Fallingwater and learning that Frank Lloyd Wright played with Froebel blocks as a child. I had three clear pairings of children's play and iconic architecture. I began listing other ways that children build and researching modern and contemporary structures with design similarities.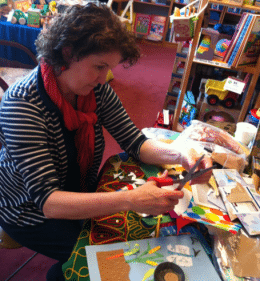 What was the biggest challenge you had writing your story? How did you overcome it?
My overall concept for Dreaming Up was about making visual connections between building play and existing architectural structures. The challenge was to keep this book young in feel. I wanted to provide information about the buildings and architects, so early mock-ups included captions alongside the photos. At my editor's suggestion, I removed this text from the main section of the book. This clears space for readers to make their own discoveries. At the back of the book readers can then dig deeper and learn more about the buildings and architects. After we decided to move the informational text I showed my editor concrete poems for the very young I had written for yet another early version, in which I connected the building play and the architectural concepts in a way that is easily understood and fun. My editor encouraged me to go this direction and include a concrete poem for each illustration and photo pairing.
What kind of story can we expect next from you? Is it set outside of the United States? If so, where? And what is it about?
I am working on art for a couple of books, one is a Cambodian dance book, the true story of a Khmer Rouge survivor that will be published by Tuttle. Part of the story is set in Cambodia, part in the US. I have also written a bilingual book in Spanish/English in corrido form about a true event in Mexican-American history. I am still refining this one. I have many other irons in the fire, aka half-baked projects!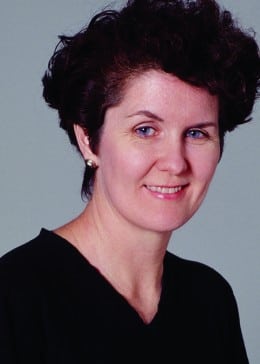 What else would you like us to know about you or your story?
Not all of the buildings included in Dreaming Up are widely photographed. Sometimes I had difficulty contacting the photographer or architect to get permission to use an image. Two experiences made our big wide world feel very cozy and connected.
I hoped to use a photo of Shigeru Ban's Paper Tube School that I found on a blog written in Cantonese. I do not speak or read Cantonese, but my sister-in-law, Wing is from Hong Kong, so I enlisted her assistance. No email contact information was listed on the blog, so Wing just posted a comment in Cantonese and included her contact information. The blog writer/photographer responded and it turned out that he studied architecture in the US, now teaches architecture in Hong Kong, and speaks English. We exchanged emails and he was very enthusiastic about my project since he has a young son. He generously provided the photo that appears in the book.
Colombian architect, Simón Vélez has built stunning structures in bamboo. I hoped to include a photo of one but after much searching the web, I still couldn't find a way to contact him or a photographer. Fortunately, when I first saw La Sagrada Familia many years ago, I was part of a group studying painting in Barcelona, and one of the group members was Ivan, a Colombian graphic designer working out of Bogota. Years later Ivan and I reconnected on Facebook. I wrote to Ivan and explained my project and asked if he had a way of finding an address or contact information for Simón Vélez. In no time at all Ivan wrote back with a phone number saying that his friend was Vélez's neighbor. I got up my nerve, called the architect, and spoke to him in Spanish. Vélez was kind and humble. He sent me the beautiful photo that appears in the book. He wrote to me after the book published and he received his copy, "Con este libro mis nietas descubrieron que yo soy un arquitecto como ellas." (With this book my granddaughters discovered that I am an architect like them.)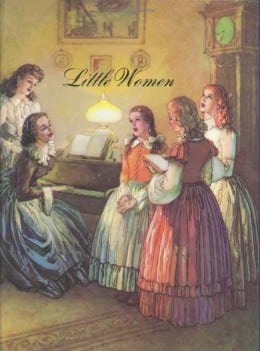 Can you remember the first book that made an impact on you? And why?
I lived in Concord, MA when I was too young to remember, but later, when my mother read me Little Women, we lived only a short distance away and would often drive by the Alcott home in Concord. This made Alcott and the whole idea of being an author personal to me. While reading Little Women of course I loved Jo, but even though Amy was the spoiled brat of the family she captured my attention since she was an aspiring artist and I loved art. It was Amy who got to travel and see the world. I wanted to be able to do that, too.
Readers can learn more about Dreaming Up at Lee and Low. 
Connect with Christy Hale on Facebook
Thank you Christy Hale for joining us at World Reads! Congratulations on your success with Dreaming Up! It is well deserved!!