Q & A with Jennifer Ziegler: ALPHA DOG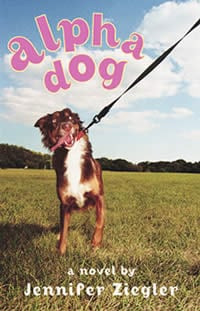 I'd like to welcome Jennifer Ziegler today at Dog Reads, a blog that features interviews with authors who have written a dog book for kids.
AOB: What is the title of your book? Pub date and publisher? Genre? Targeted age group? Illustrator?
Alpha Dog, Random House/Delacorte Press, 2006
AOB: Who is your key dog character and what kind of dog is he/she? Tell us a little more about him/her.
* Seamus is a dog of mixed pedigree that was rescued from a shelter by Katie, the teen protagonist in Alpha Dog. Seamus is curious, lively, not at all trained.
AOB: In 70 words or less, provide a succinct plot description of your story.
* Seventeen-year-old Katie looks forward to her summer college-prep program, where she can get away from her domineering mother and jerk ex-boyfriend. While there, Katie adopts an adorable mutt, Seamus, thinking she has found a loyal friend. Unfortunately, Seamus barks, chews up her roommate's belongings, and chases the landlady's cat. As Katie gradually gains control of her pet, she discovers she can be the "alpha dog" with other people in her life.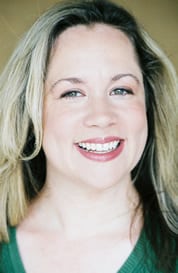 Reviews or blurbs you wish to share:
* "A breezy first novel about learning to lead the pack…. Dog lovers will likely chuckle over the canine misadventures, including puppy chewing and barking…. Fans of teen romance will probably enjoy this romp with a likable heroine."
—Publishers Weekly
*"A charmingly humorous romp. Dog lovers will like it, but other readers will speak for it, too."
—Booklist
*"[Alpha Dog is] a rare and wonderful kind of first novel – one that is both sweet and powerful."
–ParentWise Magazine
*A 2007 Teddy Children's Book Award finalist.
AOB: What inspired you to write this story?
* Alpha Dog was inspired by my late, great doggie, Cutter — a stray I adopted when I was living on my own for the first time and could barely take care of myself.  My editor, the wonderful Stephanie Lane Elliott, shaped the story a lot.
The story deals with a life lesson that I took a little too long to figure out: that standing up for yourself does not make you selfish. Sometimes when you take the lead, both you and your relationships are the better for it.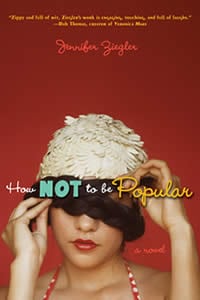 AOB: What was the biggest challenge you had writing your story? How did you overcome it?
* Cutter, who inspired the story and the character of Seamus, died while I was writing the book. He was 17, so it was not unexpected, but it still came as a shock. I had to take time to grieve. After a few weeks when I couldn't bear to look at the story, I sat one day and was re-inspired. In fact, it became a source of comfort.
AOB: What other YA/MG books have you written? Do any of them feature a key dog character? If so, which ones? AOB: What are these stories about?
* HOW NOT TO BE POPULAR (2008) – No dogs in this one. It's the story of a teenage girl who is tired of moving around all the time. When her parents decide to settle in Austin, Texas for a few months, Maggie hatches a plan to not make any friends – on purpose. If she dresses weird and does all the "wrong" things, no one will want to hang around her. Then, when it comes time to leave, there will be no one to say goodbye to and moving will be a breeze.  Unfortunately, things don't go as planned.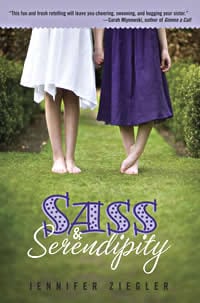 * SASS & SERENDIPITY (2011) – No key dog characters. This is the story of two sisters, Daphne and Gabby, and their different viewpoints of life, love, and each other. The book is a tribute to two people: my sister, Amanda, and Jane Austen, one of my favorite authors.
* REVENGE OF THE FLOWER GIRLS (2014) – This new book is about triplet girls who try to sabotage their older sister's wedding so that she can reunite with her ex-boyfriend. Helping them is Quincy, their faithful golden Labrador. Hijinks ensue!
AOB: What else would you like us to know about you or your story?
* ALPHA DOG is difficult to find right now – although there are plans to re-release it.  Still, I get steady fan mail about it. People seem to really relate to Katie and her plight. And there seem to be a lot of dogs like Seamus out there!  The theme that keeps coming up in these letters is that people learn just as much – if not more – from their dogs as they teach to them.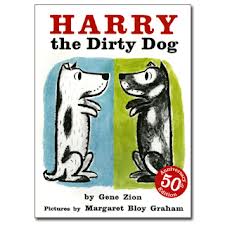 AOB: Can you remember the first book that made an impact on you? And why?
*I really can't. It seems I was always reading, always devouring stories. I do remember my first favorite dog book, though.  It was HARRY THE DIRTY DOG by Gene Zion.  My kids love it, too!
AOB: HARRY THE DIRTY DOG was a favorite of mine, too! Click here to find out more information about you and/or your books?
Thank you for joining us today at Dog Reads, Jennifer Ziegler!