Q & A with Monica Kulling: LUMPITO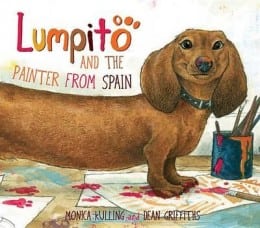 I'd like to welcome Monica Kulling today at Dog Reads, a blog that features interviews with authors who have written a dog book for kids.
AOB: What is the title of your book? Pub date and publisher? Genre? Targeted age group? Illustrator?
LUMPITO AND THE PAINTER FROM SPAIN; Pub. Date: October 2012 Canada, April 2013 United States, publisher Pajama Press; Genre: children's picture book; Targeted age group: all ages; Illustrator: Dean Griffiths.
AOB: Who is your key dog character and what kind of dog is he/she? Tell us a little more about him/her.
Lumpito is an adorable dachshund who befriends Picasso.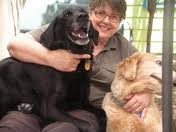 AOB: In 70 words or less, provide a succinct plot description of your story.
Lump the dachshund is unhappy living in Rome with the bully Big Dog. When his owner, the photographer David Douglas Duncan, announces that he's off to Cannes to photograph a famous painter, Lump is thrilled to make his get-away. Pablo Picasso is enchanted with the little dog he calls "Lumpito." The feeling is mutual; from that moment on, the two become soul mates.
AOB: Reviews or blurbs you wish to share:
"A sweet-natured story about a real little dachshund who won Picasso's heart." ~ Kirkus Reviews
"Young readers will delight in the small details (who knew Picasso had a goat?), while readers of all ages will relate to the message about the importance of friendship and belonging." ~ Quill & Quire
"Kulling and Griffiths' picture book with its real-life characters, picturesque setting and lovable main character should prove a popular read-aloud for the K to primary group." ~ CM Magazine
"This is an exceptionally heartwarming anecdote about the artist." ~ Publisher's Weekly

AOB: What inspired you to write this story?
I was writing poetry about Pablo Picasso's life and art and came across the story in my research. I knew right away that the charming doxie deserved a picture book all his own.
AOB: What was the biggest challenge you had writing your story? How did you overcome it?
Cutting the word length from 1,000 down to 350. I overcame this challenge by telling the story completely from Lumpito's point-of view.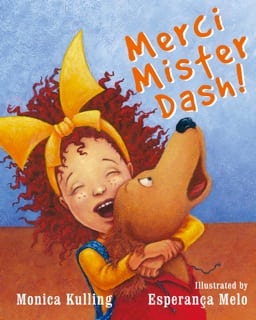 AOB: What other YA/MG books have you written? Do any of them feature a key dog character? If so, which ones? 
MERCI MISTER DASH! (2011) and its sequel MISTER DASH AND THE CUPCAKE CALAMITY (2013)
These two books feature three characters: the impeccably well-mannered dog-of-many-breeds Mister Dash, an exuberant child Daphne, and Daphne's grandmother Madame Croissant. Mister Dash lives with Madame Croissant and enjoys the peace and quiet he thrives on. In both stories, the three characters have wildly improbable adventures.
AOB: What kind of story can we expect next from you? Is it about a dog? If so, what is it about?
I write the "Great Idea" series, published by Tundra Books/Random House. Making Contact! Marconi Goes Wireless is book number five and will be out in September 2013. These inventor stories focus on the "aha moment" that drives every great idea. I am currently working on another inventor story, as well as, a picture book about the Canadian painter Emily Carr.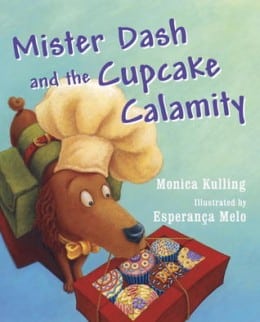 AOB: What else would you like us to know about you or your story?
I am a lover of dogs and have had two in my life for over twenty years. Not the same two, mind you! But I am also a lover of cats. We live with four fine felines.
AOB: Can you remember the first book that made an impact on you? And why?
I adore The WIND IN THE WILLOWS by Kenneth Grahame. The characters are lively and funny and their adventures are wonderfully heroic even though cast in a small woodland setting.
AOB: Where can readers go to find out more information about you and/or your books?
http://www.tundrabooks.com/authors/author.pperl?authorid=16357
Thank you Monica Kulling for joining us at Dog Reads!