Q & A with Dayna Lorentz: THE STORM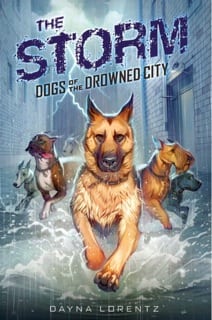 Let's welcome Dayna Lorentz today at Dog Reads, a blog that features interviews with authors who've written a story for kids with a key dog character. Dayna has written a book called The Storm, published by April 2012 by Scholastic. It's an animal fantasy story targeted for kids 9-12.
AOB: Who is your key dog character and what kind of dog is he/she? Tell us a little more about him/her.
*Shep, German shepherd. Shep is an escapee from a dog fighting kennel, a terrifying, lonely place where he had to fight other dogs to survive. He's rescued from that life and adopted by a boy and his family, who give him a wonderful, safe home. But when a hurricane forces Shep's family to leave him behind, Shep must recall his hard-won skills from the fight kennel to protect himself and the new friends he meets in the drowned city that remains.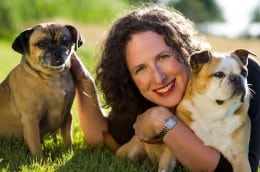 AOB: In 70 words or less, provide a succinct plot description of your story.
* When a hurricane forces his family to evacuate without him, Shep the German shepherd is confused. Where is his boy? Will he ever return? And what will Shep do in the meantime, now that the extra bowls of food — not to mention all those tasty things he found in the big cold box — are gone?
Then another dog shows up at Shep's window and convinces him to escape. There's food outside, and a whole empty city to explore. Shep just wants to go home . . . but the adventure of a lifetime is just beginning.
Reviews or blurbs you wish to share:
* "Curl up with your kibble and savor this incredible story of dogs left behind when a hurricane sweeps through their city. This page-turner follows stalwart Shep and intrepid Callie, who despite her 'yapper' size is up to her muzzle in courage, as this extraordinary canine duo braves their new environment and forms a new pack. Dayna Lorentz has delivered a book with bite—and with a great heart." 
— Kathryn Lasky, author of The Guardians of Ga'Hoole and Wolves of the Beyond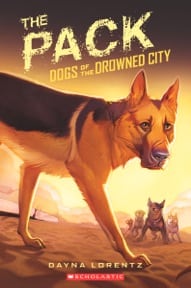 AOB: What inspired you to write this story?
* The true stories of the dogs, cats, and other pets who survived Hurricane Katrina. The characters in the story, however, are inspired by my own dogs, Peter the Pugston (Pug/Boston terrier mix) and Kerry the Jack Puggle Terrier (Pug/Jack Russell terrier mix), and the many other dogs in my life.
AOB: What was the biggest challenge you had writing your story? How did you overcome it?
* The biggest challenge I faced in writing this series was trying to capture how a dog perceives the world. I wanted the world of the story to feel different to readers—more doggy, to be exact. To do this, I focused on three things.
First, I tried to describe everything using a dog's primary senses: smell and sound, then sight. This is really hard for a sight-dependent human like me! It means talking about what the grass smells like and how it moves in the wind before talking about the fact that it's green.
Second, I had to think about the human world from a dog's point of view. This meant figuring out what would most interest a dog in the human world. I guessed smelly things like socks and leftovers. I also had to think about how a dog might describe human things that are totally alien to them, like vacuum cleaners.
Finally, I changed the language I used in the book to reflect how I thought a dog would talk. I made up dog idioms and sayings, and tried to put a doggy spin on my descriptions, such as describing daybreak as "the tails of dawn wagging in the sky."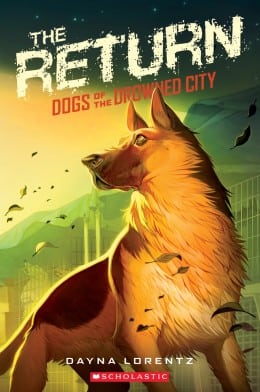 AOB: What other YA/MG books have you written? Do any of them feature a key dog character? If so, which ones? AOB: What are these stories about?
* There are three books in the Dogs of the Drowned City series, The Storm, The Pack, and The Return, all of which tell the story of Shep and the other pets as they try to survive a city-killing hurricane and then live in the ruined landscape left in its wake.
I am also the author of the YA trilogy No Safety in Numbers published by Dial Books, which is told from the points of view of four teens who are trapped with thousands of other people when a biological weapon goes off in a mall.
AOB: What kind of story can we expect next from you? Is it about a dog? If so, what is it about?
*I'm not sure what my next project will be! Right now, I'm working on finishing the as-yet-untitled final book in the No Safety in Numbers trilogy.
AOB: What else would you like us to know about you or your story?
* I am a huge dog person. I grew up with lots of dogs—Afghan Hounds and Boxers and Bostons, oh my!—in addition to my two silly pug mutts. But I've had tons of other pets, including fish, rabbits, guinea pigs, and a Maine Coon Cat named Oscar, who is the inspiration behind Fuzz in the Dogs of the Drowned City series. On my website, check out the books pages for The Storm, The Pack, and The Return to find out more about the real dogs behind the characters in the books!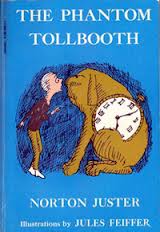 AOB: Can you remember the first book that made an impact on you? And why?
* The Phantom Tollbooth, by Norton Juster. I loved how wild and wacky and silly and smart this book is. One detail in particular that I love is the idea that words have a specific taste. And I loved Tock, the watchdog.
AOB: Where can readers go to find out more information about you and/or your books?
* My website! I have lots of extra information about the world of Dogs of the Drowned City and about me, including all the dogs I've had the pleasure of sharing my life with. There are also teaching resources and information on how to invite me to your school or library!
Thank you Dayna for sharing a bit about yourself and The Storm!