Q & A with Ginger Wadsworth: YOSEMITE'S SONGSTER: ONE COYOTE'S STORY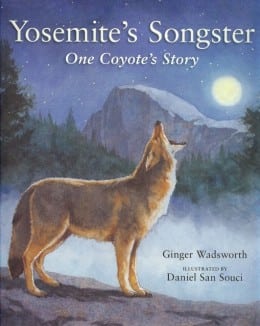 Let's welcome Ginger Wadsworth today at Dog Reads, a blog that features interviews with authors who have written a story for kids with a key canine character. Ginger Wadsworth will share the story behind Yosemite's Songster: One Coyote's Story illustrated by Daniel San Souci. Targeted for kids 4-1o in age. Ginger's book will be released in August 2013 by Yosemite Conservancy.
AOB: Who is your key dog character and what kind of dog is he/she? Tell us a little more about him/her.
* Coyote. It's a female coyote that lives in Yosemite National Park and in the story she is separated from her mate.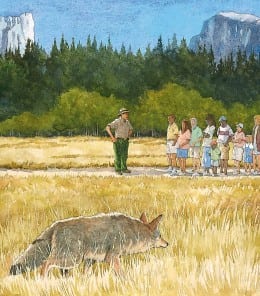 AOB: In 70 words or less, provide a succinct plot description of your story.
* A sudden rockslide in Yosemite Valley separates Coyote from her mate. Readers journey throughout the Valley observing its many famous landmarks on four paws with Coyote. You'll explore both the natural world and the human world with one's nose leading the way.
* It was released in March 2013 exclusively in Yosemite National Park and on the Yosemite Conservancy website.  It will be available everywhere in August 2013, and it has not been reviewed yet since the book is only a few "weeks" old.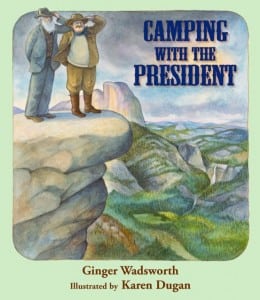 AOB: What inspired you to write this story?
* I welcomed the opportunity to write about Yosemite National Park once again. I had published a biography of naturalist John Muir and also a picture book entitled CAMPING WITH THE PRESIDENT about an actual 1903 Yosemite camping trip with President Theodore Roosevelt and John Muir. I'd always wanted to work with illustrator Dan San Souci. Dan and I had discussed the possibility of jointly doing a book about one of the most amazing and fascinating animals in the park and it has now come to life.
AOB: What was the biggest challenge you had writing your story? How did you overcome it?
* The manuscript was reviewed for accuracy by National Park Service staff at Yosemite National Park. I had to be willing to make changes to reflect that philosophy the Park Service wants to portray.  It wasn't a challenge necessarily, but it was important to do it correctly.  I could not anthropomorphize the coyote in anyway for example, and I had to be scientifically on target.  Coyotes are natural scavengers, and in the park they do eat human food, but the park discourages that, which is great. One of the official messages for the millions of visitors to the park is that coyotes, bears, and all the other wild animals should find and eat their natural food.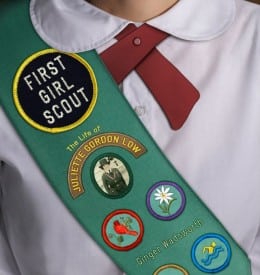 AOB: What other YA/MG books have you written? Do any of them feature a key dog character? If so, which ones? AOB: What are these stories about?
* I've published over 25 books for children. None have featured a main dog character until YOSEMITE'S SONGSTER.  However, my last biography, FIRST GIRL SCOUT: THE LIFE OF JULIETTE GORDON LOW published by Clarion Books, was about the founder of Girl Scouts in the USA and Daisy Low, as she was known, loved dogs and always traveled around the world with them.  I included many archival photographs of Daisy with her dogs and birds.
AOB: What kind of story can we expect next from you? Is it about a dog? If so, what is it about?
* Actually, I have a forthcoming nonfiction book about scat detection dogs that will be published by Charlesbridge Publishing. It's titled SUPER SNIFFERS: SCAT DETECTION DOGS AT WORK and will be about how dogs are used by wildlife biologists studying endangered or invasive species.  It will be out in 2014 or 2015.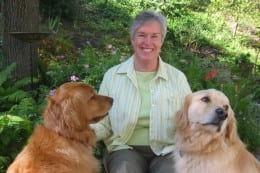 AOB: What else would you like us to know about you or your story?
* I have two golden retrievers, Willa and Scout, that are trained therapy dogs. I take them into libraries and schools where elementary age children read to the dogs as part of a national program called R.E.A.D., or our local name, Paws to Read.

AOB: Can you remember the first book that made an impact on you? And why?
I always mention CHARLOTTE'S WEB by E.B. White.  I love that story, and I guess I'm a want-to-be farmer who would love to have lots of animals.  I only have chickens and dogs right now.  CHARLOTTE'S WEB is such a great story.  During school visits, I often read the dramatic, opening paragraph in the book as an example of how to pull in your readers.
Not long ago, Charlesbridge Publishing released my picture book, UP, UP, AND AWAY about a ballooning spider. It was inspired by and is dedicated to Charlotte from E.B. White's book.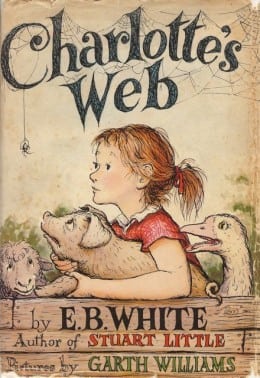 Thank you for joining us today at Dog Reads, Ginger Wadsworth. We'd love to feature your Super Sniffer book when it comes out, as well as any others you write with a key canine character.  For more information about Ginger Wadsworth and her books, please click HERE.