Q & A with Mary Hooper: NEWES FROM THE DEAD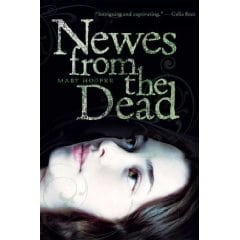 Let's welcome Mary Hooper today. I first read NEWES FROM THE DEAD when I was an MFA student at VCFA and just LOVED this book. Mary nailed the voice of the maidservant girl and kept me turning the page until the end. It's a book I've recommended to others and have used in the writing classes I teach. I hope you enjoy it as much as I do.
AOB: What is the title of your book? The pub date and publisher?
Mary: NEWES FROM THE DEAD, published by Roaring Brook Press, 2008
AOB: Where is it set?
Mary: The City of Oxford, England.
AOB: In 70 words or less, provide a succinct plot description of your story.
Mary: Anne Green was a servant girl accused of killing her own baby. She was sentenced to be hanged and afterwards taken to be dissected by the Oxford physicians, but somehow survived the hanging and awoke to find herself in her coffin, surrounded by Oxford students ready to dissect her.
AOB: Links to starred reviews or blurbs you wish to share:
"Keeps you captivated until the very last page" – The Bookseller.
"Stunning!" the Historian and novelist Alison Weir.
AOB: How are you connected to the setting of your story?
Mary: I live about 20 miles away so was on hand to do the research.
AOB: What inspired you to write this story?
Mary: It's a true story and no one had really told it before. I think Anne had a rough deal and I wanted to tell it from her point of view.
AOB: What was the biggest challenge you had writing your story? How did you overcome it?
Mary: Trying to get the authentic voice of a young maidservant in the Seventeenth Century. I (hope I)overcame it by living and breathing Anne; immersing myself in reading about the life she would have lived.

AOB: What kind of story can we expect next from you? Is it set outside of the United States? If so, where? And what is it about?
Mary: I was born and still live near London, so all my books (except NEWES FROM THE DEAD) are set there. I have a new book coming out in May called THE DISGRACE OF KITTY GREY, and am at present working on a book set in the Great War (1914-1918) and titled (at the moment)POPPY.
AOB: What else would you like us to know about you or your story?
Mary: Someone has bought the stage rights to NEWES and hopes to turn it into a Musical. If you look at my website, there is an excellent spooky trailer.
AOB: Can you remember the first book that made an impact on you? And why?
Mary: When I was a teenager I absolutely loved FOREVER AMBER: romantic, stirring, dangerous, passionate – and you learned a little bit of history at the same time. When I wrote AT THE SIGN OF THE SUGARED PLUM, a book on the Great Plague (set in Seventeenth Century London) I found I could remember great chunks of that original book.
AOB: Where can readers go to learn more information?
Mary: About me? Click here to go to my website.
I hope to invite Mary back to showcase her other stories set outside of the United States.
Thank you for joining us, Mary!