Q & A with Sarah Lean: A DOG CALLED HOMELESS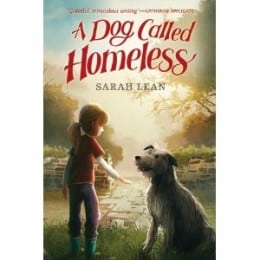 It gives me great pleasure to introduce Sarah Lean, author of A DOG CALLED HOMELESS which just won the ALA Schneider Family Book Award. I am also delighted to interview Sarah Lean, for we are both represented by The Greenhouse Literary Agency.

Annemarie: What is the title of your book? Pub date and publisher?
Sarah: A Dog Called Homeless
May 2012 HarperCollins Children's Books, UK
Sept 2012 Katherine Tegan Books, HarperCollins, USA
Annemarie:Who is your key dog character? Tell us about him/her.
Sarah: Homeless is an enormous silver-grey Irish Wolfhound. His small brown eyes sparkle like a million stars; his beardy chin and whiskers twitch so you can tell what his face is saying. He is loyal, protective and gentle and means no harm but he turns up unexpectedly and howls outside a school hall scaring the children who are practicing singing for an end-of-term concert. Nobody is sure who he belongs to but Cally believes Homeless is the last link she has to her mother who died the previous year.
Annemarie: In 70 words or less, provide a succinct plot description of your story.
Sarah: My name is Cally Louise Fisher and I haven't spoken for thirty-one days.
Cally saw her mum, bright and real and alive. But no one believes her, so Cally's stopped talking. Now a mysterious wolfhound has started following her everywhere. Perhaps he knows Cally was telling the truth.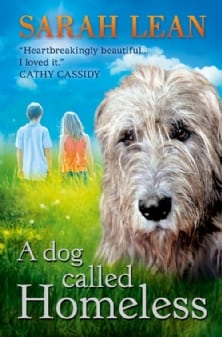 Annemarie: Starred reviews or blurbs you wish to share:
"Heartbreakingly beautiful…I loved it." Cathy Cassidy
"An exceptional debut…richly characterized." The Sunday Times
"Genuinely moving and beautifully written." The Bookseller
"A tender story … miraculous writing will have you weeping one moment and rejoicing the next. A luminous debut." Katherine Applegate, award-winning author of THE ONE AND ONLY IVAN
"A rare gem of a novel. Beautifully crafted, it hums with sensitivity and invites readers to consider the depths and nuances of communication and connectedness." Leslie Connor, award-winning author of WAITING FOR NORMAL
"A wonderful story about the power of friendship…and the love of one very big dog. This perceptive and poignant story is a must-read for anyone who has lost something they loved – in other words, everyone!" Bobbie Pyron, author of A DOG'S WAY HOME
Annemarie: What inspired you to write this story?
Sarah: I am interested in language and the way we tell stories about ourselves to maintain our identities and relationships with people. But I am also intrigued by how we communicate without words. Cally was a character who wouldn't be quiet in my head, although I was trying to write another story about a ghost! It just so happened around that time that my family decided to get our first puppy – Harry. The minute I saw Harry he found a place in my heart. When we brought him home, I began to understand the silent bond that people have with their dogs and I knew there had to be a dog in Cally's story. Soon Homeless became the most important element in the story.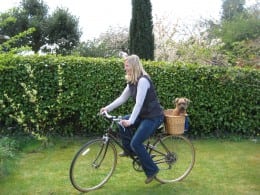 Annemarie: What was the biggest challenge you had writing your story? How did you overcome it?
Sarah: The biggest personal challenge was believing that anybody would want to read it. I just kept going because I knew I had to find out one way or another. But of course the real writing challenge was telling a story about someone that didn't speak! Although I tried several other ways, Cally so clearly wanted to be heard that I realised she had to tell it herself.
Annemarie: What other YA/MG books have you written? Do any of them feature a key dog character? If so, which ones? What are these stories about?
Sarah: No dog this time, but a hundred horses. A HORSE FOR ANGEL is published January 2013 in the UK (it will be published in the US under the title A HUNDRED HORSES) and is about finding something special in the most unlikely of places. It's another MG book with a cast of animals – 3 chickens, a kunekune pig, a goat, some geese, and a herd of black and white horses (and more, but that's for the reader!)
Nell is sent to stay with distant family in the countryside only to find that her secret case has been stolen by a troubled wild child called Angel. Two very different girls find they have to trust each other with their secrets to find out the truth about themselves, and to save a hundred horses.
Annemarie: What kind of story can we expect next from you? Is it about a dog? If so, what is it about?
Sarah: I'd love to write about another dog character but I haven't found 'the' story yet. For me it's part of the real pleasure of writing, finding the pieces of puzzle that make a story worth telling. I always start with a human character, but find that animals provide an emotional background that enriches the story and they become key to the character's adventure and resolution.  At the moment I'm writing about the special relationship between a girl and her granddad – and a whale!
Annemarie: What else would you like us to know about you or your story?
Sarah: I have heard lots of people cry when they read A DOG CALLED HOMELESS. I think that means they are moved by what happens.
Annemarie: Can you remember the first book that made an impact on you? And why?
Sarah: I grew up reading Hans Andersen's Fairytales but both THE FARAWAY TREE, Enid Blyton, and THE LION, THE WITCH AND THE WARDROBE, C.S. Lewis, stand out. I think they had the power to transport me to another world and yet I was able to recognize and identify with the human heart of each story. (I often crawled through my mother's wardrobe, through her dresses and fur coats, looking for a way to Narnia!)
For teachers and librarians, click here for additional resources.
Win a chance to name a character in Sarah's next book!!
For more information about Sarah Lean and her books, please click here.
Thank you for joining us today, Sarah. We look forward to your next book!