from the publisher: BUDDY THE FIRST SEEING EYE DOG by eva moore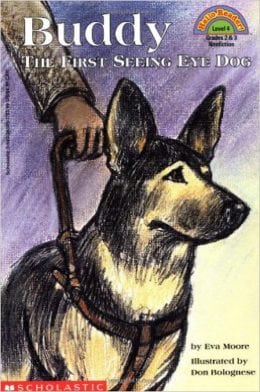 Dog Reads is a blog that features children's books with key dog characters. Sometimes an adult dog book sneaks in but for the most part Dog Reads aims to help kids, their parents, teachers, and librarians find dog books.
From the publisher:
With inspiring and educational stories, Scholastic's Hello Reader series caters to the spectrum of reading abilities among beginning readers. My First Hello Readers use basic words to reinforce phonics and sight vocabulary. The books at this level offer punch-out flash cards plus six additional pages of skill-building activities. Levels 1 – 4 combine a greater vocabulary and longer sentence length. Each book has an introductory letter from an education specialist guiding parents on how to help their children learn to read. Grades 2 – Grades 4.