from the publisher: MEDIEVAL DOGS by kathleen walker-meikle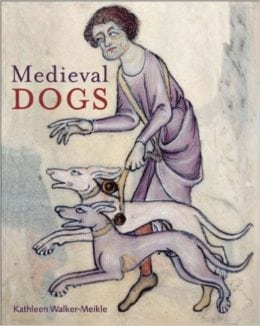 Dog Reads is a blog that features children's books with key dog characters. Sometimes an adult dog book sneaks in but for the most part Dog Reads aims to help kids, their parents, teachers, and librarians find dog books.
From the publisher:
Perhaps at no other time in Western history have animals played such a dominant role in the visual and literary arts as they did during the Middle Ages. Animals were prevalent and essential in all aspects of medieval life, and as a result, they were employed by artists for a variety of purposes: to illustrate saint's lives, populate farm scenes, act as characters in fables, and even crawl among the very letters forming the text. And while artists used a host of animals, both real and fantastic, for these purposes, one of the most popular animals was man's best friend.
Dogs were as important to humans during the Middle Ages as they are today, and this new book celebrates that association through their appearance in medieval manuscripts. A follow-up book to Kathleen Walker-Meikle's Medieval Cats, published by the British Library in 2011, Medieval Dogs presents a wealth of dog imagery from a variety of medieval sources and is peppered with fascinating facts about the medieval view of dogs and many stories of people and their pets in the Middle Ages.
Among the themes explored in the accompanying text are the roles of the medieval dog, dog breeds, dogs and saints, the names of dogs, canine faithfulness, veterinary care of dogs, dog feeding, the mourning of dogs and burial practices, and medieval poetry about dogs, with translations of some short poems included here. Medieval Dogs is sure to charm dog lovers and medievalists alike.