from the publisher: REIGNING CATS AND DOGS by katharine macdonogh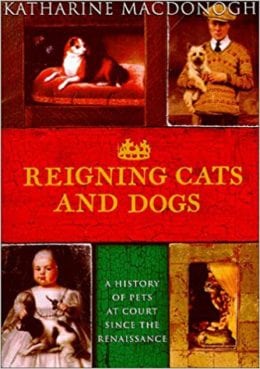 Dog Reads is a blog that features children's books with key dog characters. Sometimes an adult dog book sneaks in but for the most part Dog Reads aims to help kids, their parents, teachers, and librarians find dog books.
From the publisher:
For monarchs and their consorts, cats, dogs and the occasional parrot have acted as constant companions, unquestioning allies, surrogate children and silent repositories of whispered confidences. For the isolated children of the monarchs, cats and dogs were often the only source of emotional comfort and warmth. From Empress Josephine's collection of pugs (who had their own personal maid) to the Duchess of Windsor's pug named after Princess Margaret's husband (as a barb for the Queen mum) to Elizabeth II's dynasty of corgis, Katharine MacDonogh's history of these pampered pets offers us a fascinating and often hilarious peek into the exalted world of their owners, exposing their romances, intrigues and follies. Reigning Cats and Dogs is a lavishly illustrated pet'seye view of court life that will delight any history buff, pet lover or royal watcher.