from the publisher: PRESIDENTIAL PETS by laura driscoll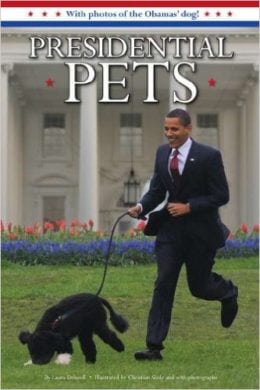 Dog Reads is a blog that features children's books with key dog characters. Sometimes an adult dog book sneaks in but for the most part Dog Reads aims to help kids, their parents, teachers, and librarians find dog books.
From the publisher:
Many of our presidents have had extraordinary pets including an alligator, tiger cubs, elephants, bald eagles, a hippo, a bear, a zebra, and a coyote. This easy reader, with photos and illustrations, will have stories about many of these animals – including the Obama's dog, a rescued Portuguese Water Dog.