Q and A with Sherry Weaver Smith: THE WOLF AND THE SHIELD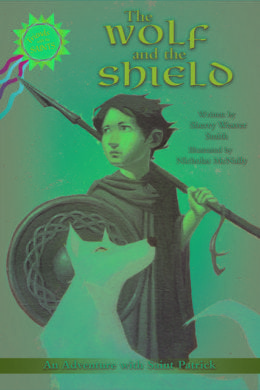 Today I welcome Sherry Weaver Smith to Dog Reads, a blog that features interviews with authors who've written a canine story for kids or young adults. What is the title of your book? Pub date and publisher? Genre? Targeted age group? Illustrator?
The Wolf and the Shield: An Adventure with Saint Patrick, Pauline Books and Media, January 2016, Ages 8-12, Nicholas McNally Illustrator
AOB: Who is your key dog character(s) and what kind of dog is he/she? Feel free to list as many different breeds or mixes as necessary. Tell us a little more about him/her.
Aisling is an orphaned Gray Wolf pup, who likes to chase after anything that makes a sound, falls asleep quickly after playing, and curls up when she's cold. She has light gray fur like birch tree trunks mixed with the soft white of a snowy path on the way to an adventure. She lives in 5th century Ireland.
AOB: In 70 words or less, provide a succinct plot description of your story.
Ever since Kieran's father's death, he's tried to take care of his mother and little brother. When Saint Patrick helps him to rescue a wolf pup, his choices become more difficult. Should he leave home to join Carrick's warriors? Will someone discover the wolf he's been hiding and kill it? Join Kieran as he cares for the orphaned pup and searches for a shield strong enough to protect everyone he loves.
Links to reviews or blurbs.
AOB: What inspired you to write this story?
I found an article that described how Celtic saints turned to animals as friends when they couldn't find their way. At other times, they saved animals at a point in history, where unlike today, it wasn't common to rescue them.
St. Patrick stopped his friends from hunting a deer and her fawn who were resting on a hilltop where the group of men wanted to build a church. St. Aidan protected a hungry wolf by feeding it meat that the saint needed for himself. St. Melangell saved a hare from a hunt by hiding the fleeing animal in her robes. Sometimes, saints needed saving. Otters protected a saint, Cuthbert, so absorbed in prayer that he found himself over chilled in the North Sea. The furry creatures wrapped around his legs.
I was inspired by these caring people, who had so little but often were willing to give that away to animals.
AOB: What was the biggest challenge you had writing your story? How did you overcome it?
My biggest challenge was also the most fun: trying to imagine a story while also making sure it was historically accurate. I faced an exciting pile of books to do research regarding St. Patrick's spirituality, plants and animals, customs, tools, food, and many details of 5th century Ireland.
AOB: What other YA/MG books have you written? Do any of them feature a key dog character? If so, which ones?
What are these stories about?
The Wolf and the Shield: An Adventure with Saint Patrick is my first book.
AOB: What kind of story can we expect next from you? Is it about a dog? If so, what is it about?
My next book, Search for the Hidden Garden: A Discovery with Saint Thérèse, will be published in August 2016. In the story, ten-year-old Charlotte and her friends think they are only looking for adventure when they happen upon a hidden garden. But they find much more than they expected—and face a threat to the trees themselves. Can Thérèse, an extraordinary fifteen-year-old girl preparing to become a Carmelite nun, help Charlotte to find the true treasure hidden inside the garden? And will Charlotte discover the mission she's been on all along?
AOB: What else would you like us to know about you or your story?
It might seem hard for children to relate to St. Patrick, who lived so long ago. He had the courage to return as a priest to Ireland, where he had been a slave. For many Catholics, he is a symbol of having courage to follow God no matter what.
But I think children, by tapping into their deep compassion for animals, can relate to this story of St. Patrick, Kieran, and a wolf pup. Taking care of a pet is one of the earliest ways that kids show kindness and responsibility—all on their own—even at the risk that those first friends may become sick, hurt, or even die. Children show great courage when they journey through pets' lives and end of life, and kids connect with Kieran, across time and across place, in this universal story.
AOB: Can you remember the first book that made an impact on you? And why?
Yes, Where the Red Fern Grows. I didn't have a dog as a child (I had a cat), and I never had to move to a different home. But I still understood the beauty of a red fern shading the graves of two beloved pet dogs when a boy has to leave that place behind when his family moves. The title of Where the Red Fern Grows points to the way places can hold memories. As a writer now, I'm still looking for red ferns. I've written a series of poems for adults about graveyards that wonder about the stories memorialized there.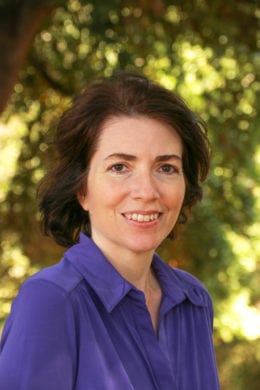 AOB: What advice would you give to aspiring writers?
For me, the best part about creative writing is creativity—finding ideas! Ban writer's block by:
Carrying a 3×5-inch blank notebook or your phone to record your ideas—at all times.
Collecting images of things that you like for your story: in newspapers, magazines, your own photos, or online.
Lining up a playlist that evokes the characters of your story in their world. When I was first writing, I lived in bright California surrounded by brown hills. Kieran in The Wolf and the Shield protects his tiny wolf pup in a dark oak forest. So, I found lots of songs, like a movie soundtrack, that echoed this landscape.
Readers can learn more about Sherry Weaver Smith on her web page or by following her on Twitter. Thank you Sherry Weaver Smith for joining us at World Reads! Thank you Sherry Weaver Smith for joining us at Dog Reads!