HARRY THE DIRTY DOG written by Gene Zion and illustrated by Margaret Bloy Graham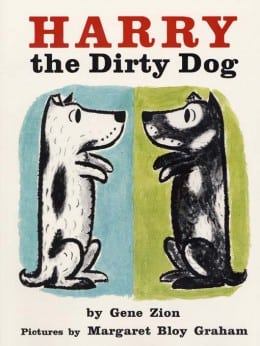 One of my favorite picture books as a kid was Harry the Dirty Dog. It's the one childhood picture book I easily recall from start to finish and one I can read over and over again. This is the story of Harry, a dog who hates his bath. He hates it so much that he buries his scrub brush in the yard and runs away! He gets so dirty on his adventure about the town that he turns from a white dog with black spots into a black dog with white spots. When he starts to miss his family and arrives home, they don't recognize him! This is the very point in the story that drops me back into the emotional state of a child fearing that Harry will never be reunited. I was so caught up in Harry's world, I was actually really scared that his family would never recognize him. [Semi-spolier alert] Because Harry is so clever, he figures out a way [I wont say exactly how, you'll have to read the book to find out.] to show his family that it is really him underneath all the dirt. This moment is so well done in such a "less-is-more-kind-of-gesture," I am again planted back into my childhood feeling the happiness of their reunion. It's the books that make us feel our way through story that we love so dearly and Harry the Dirty Dog is certainly one of these books.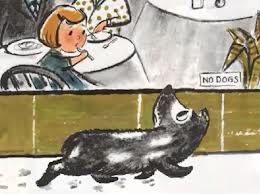 Harry the Dirty Dog is bound to delight every child, but will surely hit home with kids who share Harry's sentiment about taking baths!
From Random House: Gene Zion was born on October 5, in 1913. He attended the New School of Social Research and the Pratt Institute. In 1948, he married artist Margaret Bloy Graham, who then collaborated with him on all his picture books. When their marriage ended in 1968, Zion also ended his career as an author. Zion is best known for his creation of the rascally dog, Harry, who appears in such books as Harry The Dirty Dog, No Roses for Harry, Harry by the Sea, and Harry and the Lady Next Door. He died in 1975.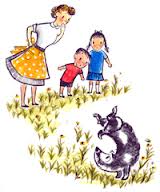 School Library Journal (Elizabeth Bird*) puts Harry the Dirty Dog at #43 in its top 100 picture books.
*About Elizabeth Bird
Elizabeth Bird is currently New York Public Library's Youth Materials Collections Specialist. She has served on Newbery, written for Horn Book, and has done other lovely little things that she'd love to tell you about but that she's sure you'd find more interesting to hear of in person. Her opinions are her own and do not reflect those of NYPL, SLJ, or any of the other acronyms you might be able to name. Follow her on Twitter: @fuseeight.