Q & A with Stephanie Calmenson: MAY I PET YOUR DOG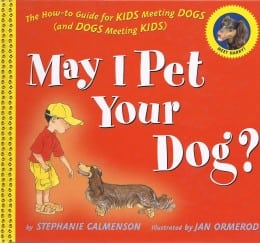 Today I welcome Stephanie Calmenson to Dog Reads, a blog that features interviews with authors who've written a canine story for kids or young adults.
AOB: What is the title of your book? Pub date and publisher? Genre? Targeted age group? Illustrator?
* MAY I PET YOUR DOG? The How-to Guide for KIDS Meeting DOGS (and DOGS Meeting KIDS)  2007  Clarion Books/HMH   Nonfiction picture book Ages 3 and up.  Illustrated by Jan Ormerod   ISBN  978-0-618-51034-4   Video:  ISBN 1-933938-74-9.
AOB: Who is your key dog character(s) and what kind of dog is he/she? Feel free to list as many different breeds or mixes as necessary. Tell us a little more about him/her.
* Harry is a long-haired, chocolated-dappled dachshund. That's a long description for a short dog!  He's beautiful and sweet, so it was hard to figure out why, at five months, he was a dog without a home. When my husband and I met him, he was so scared and sad.  But he's grown up to be a very happy dog.
AOB: In 70 words or less, provide a succinct plot description of your story.
* Harry loves children and they love him.  But some children's enthusiasm can be overwhelming — especially when they run at a dog reaching to grab or screeching with glee.  There's never before been a book teaching children how to meet a dog safely, and I knew that Harry would be the perfect guide. So, in his own voice, Harry talks to kids about the best way to meet him and his friends.
Links to reviews or blurbs:
* Horn Book Starred Review and Fanfare selection
* Video Librarian starred review
 and ALSC Notable Children's Video Award
"Harry is a cheerful and friendly long-haired dachshund who serves as the first-person narrator for this thoughtful look at the best way for a child to meet dogs… Children who are afraid of dogs, as well as those who love them, will find this volume useful and encouraging." – Kirkus Reviews.
"Required reading for every dog lover!" – Lisa Von Drasek, Children's Librarian, Bank Street College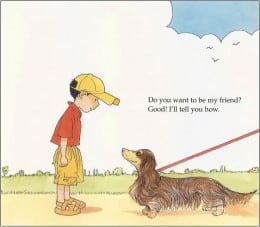 AOB: What inspired you to write this story?
* I wrote it for the safety — and joy — of both kids and dogs.
AOB: What was the biggest challenge you had writing your story? How did you overcome it?
* I needed to keep the tone light and the tips simple and clear.  Harry turned out to be the perfect spokes-dog.
AOB: What other YA/MG books have you written? Do any of them feature a key dog character? If so, which ones?
What are these stories about?
* I've written other dog books including:
Rosie, A Visiting Dog's Story, a photo-essay book about the raising and training of a visiting dog featuring my own tibetan terrier, Rosie.  Readers get to join Rosie on visits to hospitals, nursing homes, and special schools as she cheers up people who are sad, sick, or lonely.
No Dogs Allowed! is Book 1 in the Ready, Set, Dogs! series written with my friend Joanna Cole (Magic School Bus author).  Growing up, we each wanted a dog more than anything, but couldn't  have one.  In our series, best friends Kate and Lucie desperately want, but can't have dogs. One day they find two necklaces with sparkly pink dog bones at their local thrift shop that turn out to be magic.  With a pop and a whoosh, the girls turn into dogs!
AOB: What kind of story can we expect next from you? Is it about a dog? If so, what is it about?
*    Joanna and I are having a great time writing the Ready, Set, Dogs! series.  Book 2 is called Teacher's Pets, so get ready to see Kate and Lucie as dogs at school!
I'm also working on a new book about Harry and his poodle pal, Jeeter.
AOB: What else would you like us to know about you or your story?
* It's very gratifying that Harry, who was an unwanted puppy, has turned out to be a much-loved dog and the inspiration for the book that brings kids and dogs together safely.
AOB: Can you remember the first book that made an impact on you? And why?
* Heidi by Johanna Spyri.  Her grandfather's love, the Swiss Alps setting, and how Heidi helped Clara to walk touched my heart. And if I couldn't have a dog when I was growing up, I wished I could have a goat — or two! — like Schwänli and Bärli.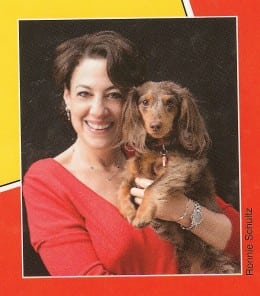 AOB: What advice would you give to aspiring writers?
* Write about what you love.
AOB: Where can readers go to find out more information about you and/or your books?
Thank you, Stephanie Calmenson, for joining us at Dog Reads!