Q & A with Natalie Standiford: THE BRAVEST DOG EVER: THE TRUE STORY OF BALTO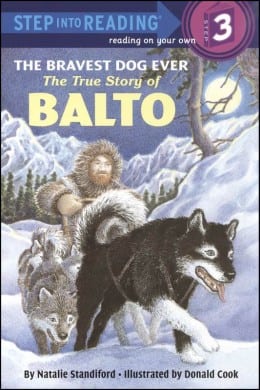 Today I welcome Natalie Standiford to Dog Reads, a blog that features interviews with authors who've written a canine story for kids or young adults.
AOB: What is the title of your book? Pub date and publisher? Genre? Targeted age group? Illustrator?
The Bravest Dog Ever: The True Story of Balto
Random House Step into Reading 1989
Illustrated by Donald Cook
Nonfiction, easy reader
Ages 5-8
AOB: Who is your key dog character(s) and what kind of dog is he/she? Feel free to list as many different breeds or mixes as necessary. Tell us a little more about him/her.
*Balto is a Siberian Husky who works as a sled dog in Alaska in 1925. He's a lead dog, brave and very smart. He works for a driver named Gunnar Kassen at a gold-mining camp.
AOB: In 70 words or less, provide a succinct plot description of your story.
*A diphtheria epidemic breaks out in Nome, Alaska, in 1925. The town needs medicine, but a blizzard keeps trains and planes from reaching Nome. A dogsled relay is organized to deliver the medicine. Balto, a lead dog, braves ice, danger, and blinding snow to lead his team through the terrible storm in time to get the medicine to Nome and save the sick children. He's a hero!
AOB: What inspired you to write this story?
*My editor, Jane O'Connor, asked me to write the story. She grew up in New York City and played on the statue of Balto in Central Park, and was curious to know the story behind it. So I agreed to write it.
AOB: What was the biggest challenge you had writing your story? How did you overcome it?
*The biggest challenge was finding information. The book is nonfiction and the story takes place a long time ago. My main source was the New York Times—I found old articles on microfiche (this was in the 1980s, before the Internet) that followed the serum run. There wasn't much information besides that, and most of the people who remembered the run had died by the time I began researching the story.
AOB: What other YA/MG books have you written? Do any of them feature a key dog character? If so, which ones?
What are these stories about?
*I wrote a middle grade series in the early 1990s called Space Dog and Roy, about a dog from outer space who crash-lands in a boy's back yard. My other middle grade books include The Secret Tree and the upcoming Switched at Birthday and The 39 Clues: Countdown. My YA books are How to Say Goodbye in Robot, Confessions of the Sullivan Sisters, and The Boy on the Bridge, which is set in Russia.
AOB: What kind of story can we expect next from you? Is it about a dog? If so, what is it about?
*My next middle grade book is called Switched at Birthday and it's coming out in March 2014. It's not about a dog but a dog does have a brief cameo. It's about two 8th grade girls, dorky Lavender and popular Scarlet, who have the same birthday. They wake up the morning after their birthday to find, to their horror, that they've switched bodies. It's sort of like Freaky Friday meets Mean Girls.
AOB: What else would you like us to know about you or your story?
*One of Donald Cook's illustrations from The Bravest Dog Ever was used on the cover of the Winter 2006 issue of The Paris Review, which included a story by T.C. Boyle called "Balto."
AOB: Can you remember the first book that made an impact on you? And why?
Little Bear by Else Holmelund Minarik, illustrated by Maurice Sendak. It was so sweet and lovely, my favorite book when I was little, and it was an easy reader, like Balto. I always thought those I Can Read books were like poetry, and was proud that I was able to write books in that format when I grew up.
AOB: What advice would you give to aspiring writers?
*Allow yourself to write a messy first draft and push yourself all the way through to the end, no matter how terrible you think the story is. You can (and will) rewrite and edit it later, many times, but you need to have something on paper to work with first. Think of yourself as a sculptor: Writing the first draft is creating the clay. Once you have clay to work with, you can begin to shape it into a work of art.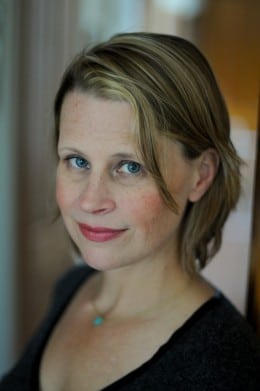 AOB: Where can readers go to find out more information about you and/or your books?
Twitter:@natstandiford
Thank you Natalie Standiford for joining us at Dog Reads!