Q & A with Lynn Hall: Author of too Many Dog Stories to List Here
Dog Reads would like to start the New Year off with Lynn Hall, an author who has written numerous dog stories for kids. Let's welcome Lynn Hall to Dog Reads, a blog that features authors and/or illlustrators who've created a dog story for kids.
I re-discovered Lynn Hall again when not long ago I read RIFF, REMEMBER about a borzoi so devoted to its pet boy, Gordy that Riff seeks justice when harm has come upon Gordy. I say "re-discover" because when I tried to find Lynn Hall on-line to ask her if she would do an interview with Dog Reads, through my search I recognized a lot of her covers from my youth such as MURDER AT THE SPANIEL SHOW. I had picked it up at Forbes Library in Northampton, Massachusetts because I loved reading mysteries and/or dog stories. And this title accomplished both!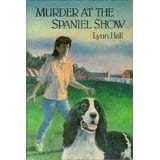 Many of Lynn's books are sadly out-of-print, but can be found on Amazon. I'm hoping this post will find its way to an editor/agent who loves dog stories enough to consider bringing some of Lynn's dog (and/or horse) stories back into print.  
Lynn, what kind of dogs have you had?
*a sheltie, a golden retriever, and many collies, Bedlington terriers, and English cocker spaniels.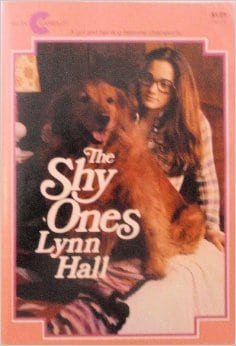 How did you learn how to write? What steps did you take to write your first novel?
*I went to the library, checked out a bunch of YA and MG books, and read them. I studied them by looking at why some were good and some were bad. The first book I wrote did not get published because the main character failed to grow or change. Things just happened to the main character. So I wrote a second story called THE SHY ONES with that in mind and it did get published.
What advice would you give to aspiring writers?
*Self-discipline is very essential to writing. You need to arrange big chunks of time to get into your fictional world and character. You also need to be comfortable with being alone with your words. Writing is a solitary life.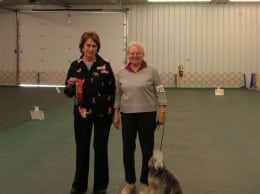 What kinds of jobs did you do before you began writing?
*I was a vet assistant and once worked with a professional dog handler.  When I sold my first book, THE SHY ONES, I was a secretary in a juvenile parole office. The advance was $400 back then. As soon as I became a published author, I looked up some Ad agencies in the telephone book. The first one I called gave me a job as a copywriter. Within four years, I quit that job and became a full-time writer.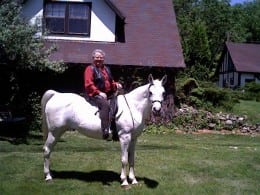 How did you decide to become a writer?
*I fiddled around with writing an adult novel. But after I read a children's girl horse story I bought in a bookstore, I realized I could do a better job because I know horses. The book I read had lots of mistakes in it. Horse stories were popular back then.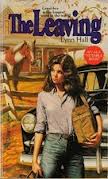 What was your biggest moment in your writing career?
*Getting the first book accepted had me dancing the dance of joy for a long time. Also noteworthy in my career were some of the awards I won like: Boston Globe Horn Book Award for THE LEAVING which I also came to learn later had tied for the Newbery in 1980. Back then when there was a tie, the medal was given to a third book. My books have also won Children's Choice Awards and THE SOLITARY won the SCBWI Golden Kite Honor Book Award. I've also won a number of Iowa State book awards.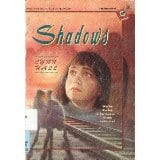 What was your lowest moment in your writing career?
*When I didn't get the Newbery. Everyone was telling me, "It's your turn! You'll win this year!" So when it went to another book, I was disappointed because I was expecting and hoping to get it.
How did your story ideas come to you?
*They came mostly from my interest in life and life's problems.
What is your favorite dog story and why?
*THE MORE I SEE OF MEN (the better I like my dog) – it's an adult book and a humorous look at the dog show world.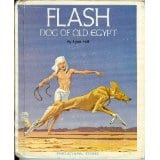 How do you think the publishing industry has changed since you started? What are the positive changes? And the not so positive changes?
*I've been disconnected from the publishing world now for about twenty years. The big change seems to be that many people are self-publishing on-line today than they were when I was writing.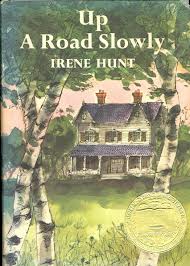 What was the publishing process like when you first submitted? Did you have an agent? How long did it take before you heard back after you submitted your first manuscript? How did you find your first editor? Did you work with this editor for most of your career?
*I didn't have an agent. I worked directly with an editor for each of my books. Because I grew up in the Midwest, I sent my first manuscript to a Chicago publisher called Follett. Their author, Irene Hunt had just won the Newbery with her second book, UP A ROAD SLOWLY and her first book won the Newbery Honor. While Follett was well respected, I thought they might be more open to an author from the Midwest versus a New York publisher.
Are there any more stories inside you? If so, what are they?
*There are no more stories, partially because I don't feel I have as much in common with youngsters today. They seem more focused on technology. Overall, I'm glad I got into it when I did and glad I got out when I did.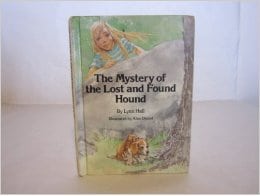 If you could change anything in your writing career, what would it be?
*Nothing. I enjoyed it all immensely and was as successful as I needed to be and it was a whole lot better than a day-job. I got to be my own boss doing something creative. My books gave me everything I wanted: a life in the country with my dogs and my horses.
Here is a list of some of the dog books Lynn Hall has written and the breed associated with the story:
Riff, Remember (borzoi)
The Soul of the Silver Dog (Bedlington terrier)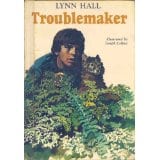 Murder at the Spaniel Show (springer spaniel)
Dog of the Bondi Castle (Irish wolfhound)
Shadows (collie)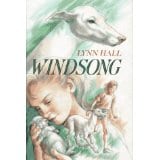 Windsong (greyhound)
Stray (mixed breed)
Mystery of the Schoolhouse Dog (mixed breed)
Owney The Travelling Dog (true story about a mixed breed)
Flash: Dog of Old Egypt (saluki)
Danger Dog (Doberman pinscher)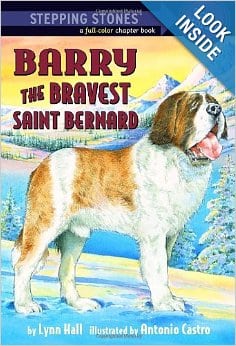 Barry: The Bravest Saint Bernard (Saint Bernard)
To Catch a Tartar reprinted as Nobody's Dog (Scottish deerhound)
The Tormentors (German shepherd)
Troublemaker (mixed breed)
Letting Go (sheltie)
Bob: Watchdog of the River (Newfoundland)
Dog Stories (border collie and other breeds)
Halsey's Pride: A Novel (collie)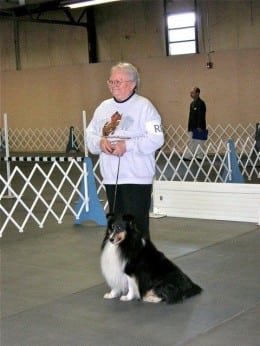 How can Dog Reads followers learn more about you? Are you on any social media platforms?
Lynn Hall Fan Page by Sharon Turner    
Article: An Adolescent's Best Friend: The Roles of Animals in Lynn Hall's Fiction
Article: Choosing Books for Today's Women
Thank you for giving me so much time, Lynn Hall. I feel honored to have crossed paths with you and hope that our friendship will continue to grow out of mutual interest in writing and dogs.
Happy New Year!