Q & A with Laurie Myers: ESCAPE BY NIGHT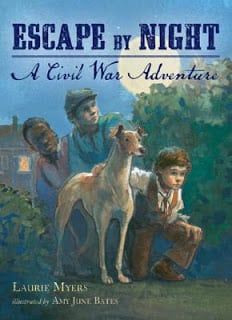 Today I welcome Laurie Myers to Dog Reads, a blog that features interviews with authors who've written a canine story for kids or young adults.
AOB: What is the title of your book? Pub date and publisher? Genre? Targeted age group? Illustrator?
Escape by Night: A Civil War Adventure
June 2011, Henry Holt
Children's Chapter Book
Ages 7-10
Illustrator: Amy June Bates
AOB: Who is your key dog character(s) and what kind of dog is he/she? Feel free to list as many different breeds or mixes as necessary. Tell us a little more about him/her.
Samson – a Whippet
I love Samson because he is a lot like the dog I have now – also named Samson. He is loyal, loving, and smart.
AOB: In 70 words or less, provide a succinct plot description of your story.
* Ten-year-old Tommy and his sister Annie are intrigued by the new soldiers arriving in their Georgia town. Since the Civil War started, wounded men waiting to be treated at the local church-turned-hospital have been coming in by droves. When Tommy sees a soldier drop his notebook, he sends his dog, Samson, to fetch it. Tommy soon meets the soldier and is faced with the hardest decision he's ever had to make: whether or not he should help a Yankee escape to freedom.
Other links to reviews or blurbs you wish to share:
* "The succinct and simply written narrative will appeal to reluctant and younger-grade readers while the full-page black-and-white pen-and-ink sketches provide the visual time and epoch setting of the story." –School Library Journal
"A genuine young hero learns the meaning of friendship, loyalty and freedom in this suspenseful Civil War vignette." –Kirkus Reviews
"Sharp historical fiction, adeptly streamlined for reluctant readers." –Publishers Weekly
"This quick and exciting chapter book isn't shy about advancing a moral message but does so with a light touch, allowing Tommy to arrive naturally at his convictions." —Booklist
AOB: What inspired you to write this story?
*It was a visit to Woodrow Wilson's boyhood home. I was standing in the second floor corner room gazing out the window at the First Presbyterian Church across the street, and I began to imagine what it would have looked like during the Civil War. What would the young Woodrow Wilson have seen? The church had been turned into a hospital and Yankee prisoners were being kept in the fenced churchyard. My imagination kept growing and the next thing I knew I was writing the book.
AOB: What was the biggest challenge you had writing your story? How did you overcome it?
*The research was challenging, but fun too.
AOB: What other YA/MG books have you written? Do any of them feature a key dog character? If so, which ones?
What are these stories about?
*I've always loved dogs and most of my books have a dog character, even if it's just in a small part. Sometimes my own personal dogs that make their way into my books, but mostly they are dogs created for the book. Lewis and Clark and Me was based on a real dog – Seaman, Meriwether Lewis's Newfoundland.
My mother and sister are dog lovers too and the books we've written together have lots of dogs – My Dog My Hero, Dog Diaries.
AOB: What kind of story can we expect next from you? Is it about a dog? If so, what is it about?
* My sister, Betsy Duffey (also a dog lover), and I are writing together now and our next published book is an adult Christian novel, THE SHEPHERD'S SONG. We are also working on a Christmas book, and yes, there is a dog in it.
AOB: Can you remember the first book that made an impact on you? And why?
*I have always loved books with animals – Old Yeller was one favorite, and Charlotte's Web.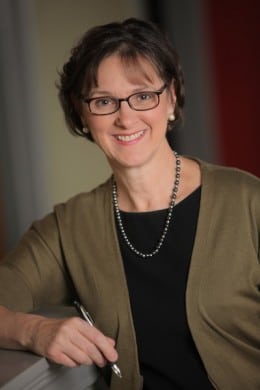 AOB: What advice would you give to aspiring writers?
*Read Read Read and Write Write Write
AOB: Where can readers go to find out more information about you and/or your books?
Thank you Laurie Myers for joining us at Dog Reads!