Q & A with Alison Hart: DARLING MERCY DOG OF WORLD WAR I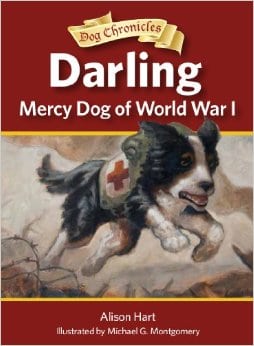 Today I welcome Alison Hart to Dog Reads, a blog that features interviews with authors who've written a canine story for kids or young adults.
AOB: What is the title of your book? Pub date and publisher? Genre? Targeted age group? Illustrator?
Darling Mercy Dog of World War I
Peachtree Publishers Oct. 2013
Fiction Dog Stories
8 – 10
Illustrator: Michael Montgomery
AOB: Who is your key dog character(s) and what kind of dog is he/she? Feel free to list as many different breeds or mixes as necessary. Tell us a little more about him/her.
*Darling is the key character. She is a herding dog from Cosham, England.  She has a devoted family, but when father goes to war, and the dog tax increases, her family must "volunteer" her for the war effort.
AOB: In 70 words or less, provide a succinct plot description of your story.
*During World War I, dogs were used for many purposes. Darling is 'drafted' into the war and is trained as a mercy dog, who locates wounded soldiers on the battlefield. She travels to Belgium with her new handler, where she must prove herself in the Battle of Messines.
AOB: What inspired you to write this story?
*I have been writing about horses and their roles in history for Peachtree Publishers, with the series Gabriel's Horses as well as Anna's Blizzard and Emma's River. It was time to tell the dog side of history—and of course, I am a dog lover!
AOB: How are you connected to your setting?
*I have traveled both to Belgium and England, but the real setting is war. I wrote about the Civil War in Gabriel's Horses, but this was the first time I had researched World War I. It was eye-opening.
AOB: What was the biggest challenge you had writing your story? How did you overcome it?
* I wrote about a real battle in Belgium, The Battle of Messines.  It was a long and horrific battle. The allies won, but really, no one won because the devastation was so vast. Retelling this in a dog's pov was tricky. Plus, I needed it to be realistic yet suitable for young readers.
AOB: What other YA/MG books have you written? Do any of them feature a key dog character? If so, which ones?
What are these stories about?
*This is my first book and series with a dog as key character. I have written over sixty books for young readers with publishers from Random House (Shadow Horse, Whirlwind and two books in the Horse Diary series) to American Girls (the InnerStar University series). With Peachtree, I have written terrific historical fiction and I am so proud of Darling. Peachtree picked an exceptional artist, Michael Montgomery, who will also be illustrating the next book in the Dog Chronicles called Murphy Gold Rush Dog.
AOB: What kind of story can we expect next from you? Is it about a dog? If so, what is it about?
*Murphy is set in Nome, Alaska during the gold rush of 1900.  The theme is survival and as in Darling, bravery. Murphy will have many adventures, ones involving both the lawless town and the harsh Alaskan environment. Expect moose and a grizzly!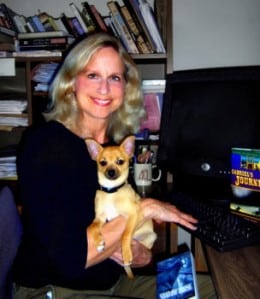 AOB: What else would you like us to know about you or your story?
*I love writing for young readers!
AOB: Can you remember the first book that made an impact on you? And why?
*I was hooked on the Billy and Blaze stories which combined animals and adventure (and great art.)
AOB: What advice would you give to aspiring writers?
*Writing takes great creativity. Publishing takes great determination. You need both to make it.
AOB: Where can readers go to find out more information about you and/or your books?
*My website. It desperately needs updating to add Darling.
Thank you Alison Hart for joining us at Dog Reads!