Q & A with Stephanie Calmenson: NO DOGS ALLOWED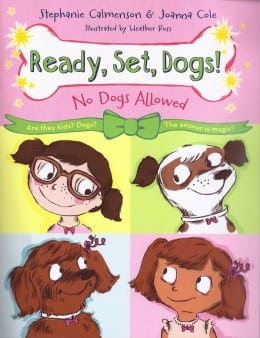 Today I welcome Stephanie Calmenson to Dog Reads, a blog that features interviews with authors who've written a canine story for kids or young adults.
AOB: What is the title of your book? Pub date and publisher? Genre? Targeted age group? Illustrator?
NO DOGS ALLOWED! (Ready, Set, Dogs! – Book 1)
by Stephanie Calmenson and Joanna Cole
October 1, 2013  Henry Holt/Macmillan
Fiction/chapter book  Ages 6 – 9
Illustrated by Heather Ross
ISBN: 9780805096453
AOB: Who is your key dog character(s) and what kind of dog is he/she? Feel free to list as many different breeds or mixes as necessary. Tell us a little more about him/her.
* Kate and Lucie are mixed breed dogs.  Wait, now they're girls.  No, they're dogs!  Girls…dogs… girls…dogs!  Well, when they're dogs, Kate is a Jack Russell mix.  Lucie is a … um…uh…she's…hmm.  Your call!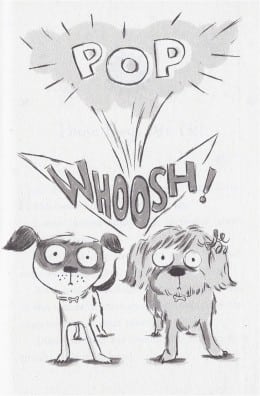 AOB: In 70 words or less, provide a succinct plot description of your story.
* Kate and Lucie are best friends who desperately want, but can't have dogs.  At The Lucky Find Thrift Shop one day, they find two sparkly pink dog bone necklaces. Trying them on in the dressing room, they like what they see, say "Woofa-woof", and give each other high fives. With a pop and a whoosh, the necklaces light up and Kate and Lucie are no longer girls — they're dogs!
Woofa-wow!
Does your book have a starred review from Kirkus? If so, can you provide the link:
*Not reviewed yet.
Other links to reviews or blurbs you wish to share:
Amazon's "Best Children's Books of 2013" Ages 6 – 8
AOB: What inspired you to write this story?
* Co-author Joanna Cole and I wanted to write books for kids who, like us when we were growing up, want a dog more than anything but can't have one.
AOB: What was the biggest challenge you had writing your story? How did you overcome it?
* We needed to find the magic that would transform the girls.  The dog bone necklaces seemed the perfect solution.
AOB: What other books have you written? Do any of them feature a key dog character? If so, which ones? What are these stories about?
* I'm best known for my picture books for young children.  The Ready, Set, Dog! series is my first venture into this format.
AOB: What kind of story can we expect next from you? Is it about a dog? If so, what is it about?
*    I've written two nonfiction books about my own dogs.  One book is Rosie, A Visiting Dog's Story about raising, training and volunteering with a Certified Visiting Dog who cheers people when they are sad, or sick, or lonely.
The other book is May I Pet Your Dog? The How-to Guide for KIDS Meeting DOGS (and DOGS Meeting KIDS) in which my dachshund Harry has fun teaching kids (and adults, too!) the safe way to meet dogs.
Next up is a (mostly) true story about Harry and his best friend, Jeeter, a poodle.
AOB: What else would you like us to know about you or your story?
* I grew up with a mom who liked dogs, but was very afraid of them.  So, as a kid I didn't have a dog and didn't get to spend much time with any.  As soon as I was living on my own and working at home, I got the  dog I'd always dreamed of — Rosie. I've had a dog in my life ever since and dogs have become a large part of my writing life.
AOB: Can you remember the first book that made an impact on you? And why?
* Heidi by Johanna Spyri.  Her grandfather's love, the Swiss Alps setting, the joy Heidi brought to Clara and how she helped Clara to walk touched my heart.  I almost gave Rosie the name Heidi, hoping she'd make others happy the way Heidi did. I ended up naming her Rosie because I immediately saw her rosie disposition and, sure enough, she's brought much joy to many people.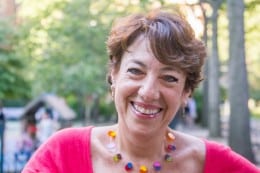 AOB: What advice would you give to aspiring writers?
* Write about what you love.
AOB: Where can readers go to find out more information about you and/or your books?
Web page: site currently works on computers only, not tablets or phones; new site in the works
Thank you, Stephanie Calmenson, for joining us at Dog Reads! We look forward to your future dog books!!