Q & A with Angela Dominguez: SANTIAGO STAYS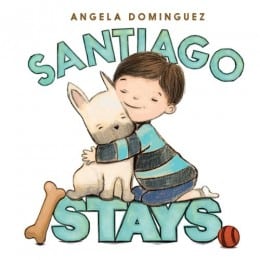 Today I welcome Angela Dominguez to Dog Reads, a blog that features interviews with authors who've written a canine story for kids or young adults.
AOB: What is the title of your book? Pub date and publisher? Genre? Targeted age group? Illustrator?
Santiago Stays. September 3rd, 2013. Fiction. Abrams/Appleseed. Ages 2-5.
AOB: Who is your key dog character and what kind of dog is he/she? Tell us a little more about him/her.
The key character is a French bulldog by the name of Santiago. He is a stubborn little dog who will not budge or move despite any temptation.
AOB: In 70 words or less, provide a succinct plot description of your story.
*Santiago is a typical French bulldog who will not budge despite being offered a variety of temptations by his owner, a little boy. The boy's frustration eventually boils over which wakes up the boy's little sister. Suddenly, the reader realizes that Santiago was in reality acting noble and guarding the baby. The story concludes with the boy and his dog playing together with the baby in a final joyous scene.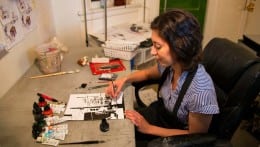 Links to reviews or blurbs you wish to share:
Booklist Review:
Santiago is a French bulldog with fur so thick around his chin that it looks like he has a beard. He also is pretty stubborn. When his boy tells him to come, Santiago holds his ground; temptations in the form of treats and toys don't work either. But when the new baby cries, well, then Santiago goes into protective mode and gets off the green rug to make sure she is all right. This is simple in every way—and simply delightful. Dominguez uses wide swaths of white space as a background often for just two items: Santiago and whatever bribe the boy is offering. The pencil, marker, ink, tissue paper, and digital color pictures have an effortless feel, but there's emotion in them as well, as the boy gets more frustrated with Santiago's truculence. The satisfying ending is marked by a cute dog-hugs-boy piece of spot art on the endpapers. The book's brevity and simple word usage make this a good choice for kids learning to read.
— Ilene Cooper
AOB: What inspired you to write this story?
* I had created a French bulldog character for my portfolio. When I met with Appleseed, the publisher encouraged me to write a story about the character and we came up with a rough plot line in their office.
AOB: What was the biggest challenge you had writing your story? How did you overcome it?
* It's a very simple story. I had the premise and character quickly, but arriving at a gratifying conclusion took a few months of rewrites.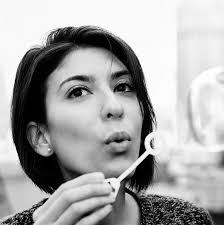 AOB: What other YA/MG books have you written? Do any of them feature a key dog character? If so, which ones? What are these stories about?
* I've written Let's Go, Hugo! Which is the story of bird who lives in Paris who is afraid to fly. In addition, I also wrote Maria Had A Little Llama, which is an adaptation of Mary Had A Little Lamb with Peruvian Twist.
AOB: What kind of story can we expect next from you? Is it about a dog? If so, what is it about?
* I have a story about a mother and daughter called Yarn coming out in January 2015 (Dial). That book will feature a little Chihuahua based on my childhood pet.
AOB: What else would you like us to know about you or your story?
* I based the characters on me and my brother.
AOB: Can you remember the first book that made an impact on you? And why?
* There are a few but one of the ones that really stand out is True Story of the Three Little Pigs. I adored the humor and it was the first book that I felt understood me.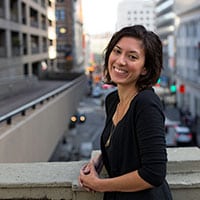 AOB: Where can readers go to find out more information about you and/or your books?
Thank you Angela Dominguez for joining us at Dog Reads! We will be sure to invite you back to talk about Yarn in January 2015.