Q & A with Stephanie Calmenson: ROSIE, A VISITING DOG'S STORY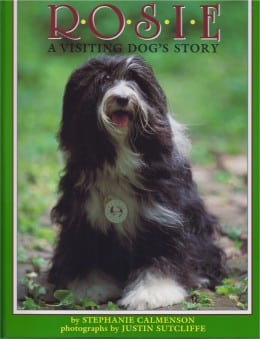 Today I welcome Stephanie Calmenson to Dog Reads, a blog that features interviews with authors who've written a canine story for kids or young adults.
AOB: What is the title of your book? Pub date and publisher? Genre? Targeted age group? Illustrator?
* Rosie, A Visiting Dog's Story  1994  Clarion Books/HMH   Nonfiction/Photo-essay  Ages 5 and up.  Photographs by Justin Sutcliffe   ISBN-13: 978-0395927229
AOB: Who is your key dog character(s) and what kind of dog is he/she? Feel free to list as many different breeds or mixes as necessary. Tell us a little more about him/her.
* Rosie is an irresistible, shaggy black-and-white TT (that's short for Tibetan Terrier).  Interestingly, TT's are not terriers.  They are part of the non-sporting dog group, and their official name is Dhoki Apso. Rosie loves to play fetch, have her belly rubbed, and meet new people.
AOB: In 70 words or less, provide a succinct plot description of your story.
* A confident and happy puppy, Rosie was the perfect candidate for a visiting dog program.  Rosie, A Visiting Dog's Story is a photo-essay book about the raising and training of a visiting dog.  Readers get to join Rosie on visits to hospitals, nursing homes, and special schools as she cheers up people who are sad, sick, or lonely.  Go, Rosie!
Other links to reviews or blurbs you wish to share:
* Robert Lipsyte writes about Rosie in the New York Times:
Smithsonian Magazine calls ROSIE, A VISITING DOG'S STORY "one of the outstanding nonfiction titles of the year."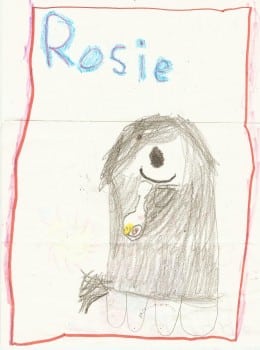 AOB: What inspired you to write this story?
* I wanted to share Rosie's story in the hope of getting more people involved in Visiting Dog programs. Rosie's brought so much joy to people in need and, through her work and the book, has inspired many others to become pet partners.
AOB: What was the biggest challenge you had writing your story? How did you overcome it?
* Rosie's great in front of a camera, but I'm definitely camera shy!  I considered getting a model for the book, but when I speak at schools and conferences, people want to see the real team.  The way I overcame the challenge was to have a gifted photographer, Justin Sutcliffe, perform his magic with a camera.
AOB: What other YA/MG books have you written? Do any of them feature a key dog character? If so, which ones?
What are these stories about?
* My friend and colleague Joanna Cole (Magic School Bus author) and I have just started a series called, Ready, Set, Dogs!  Growing up, we each wanted a dog more than anything, but couldn't  have one.  So, starting with NO DOGS ALLOWED!, the Ready, Set, Dogs! books feature Kate and Lucie, two best friends who desperately want, but can't have dogs.  Browsing in their local thrift shop on day, they find two necklaces with sparkly pink dog bones and quickly discover their magic: With a pop and a whoosh, Kate and Lucie turn into dogs! Woofa-wow!
AOB: What kind of story can we expect next from you? Is it about a dog? If so, what is it about?
*    Joanna and I are having a great time writing the Ready, Set, Dogs! series.  Book 2 is called Teacher's Pets, so get ready to see Kate and Lucie as dogs at school!
     The other book I'm working on is a new one about my dachshund Harry, who is the star of the book May I Pet Your Dog? The How-to Guide for KIDS Meeting DOGS (and DOGS Meeting KIDS), a Horn Book Fanfare title and ALA Best Children's Video.
AOB: What else would you like us to know about you or your story?
* Though it was pretty disappointing being a dogless kid, I had more than a dozen stuffed dogs to keep me company and my love of dogs stayed strong.  That lifelong passion led me to write the books about dogs — both fiction and nonfiction — that I'm known for today.  I get lots of fan mail about Rosie from both grown-ups and children, and especially love getting pictures of Rosie drawn by kids.
AOB: Can you remember the first book that made an impact on you? And why?
* Heidi by Johanna Spyri.  Her grandfather's love, the Swiss Alps setting, the joy Heidi brought to Clara and how she helped Clara to walk touched my heart.  I almost gave Rosie the name Heidi, hoping she'd make others happy the way Heidi did. I ended up naming her Rosie, because I immediately saw her rosie disposition and, sure enough, she's brought much joy to many people.
AOB: What advice would you give to aspiring writers?
* Write about what you love.
AOB: Where can readers go to find out more information about you and/or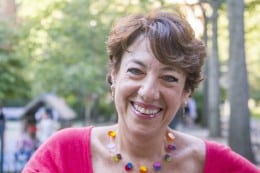 your books?
Web page: site currently works on computers only, not tablets or phones; new site in the works
Thank you, Stephanie Calmenson, for joining us at Dog Reads!