Q & A with Monica Kulling: MERCI MISTER DASH and MISTER DASH AND THE CUPCAKE CALAMITY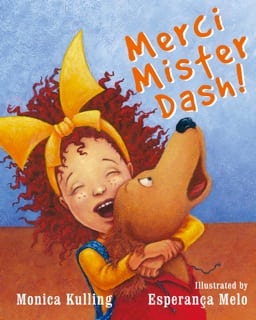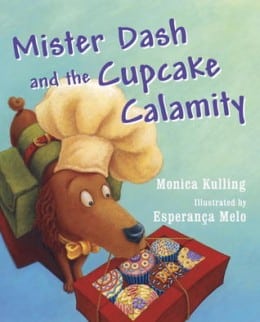 I'd like to welcome Monica Kulling today at Dog Reads, a blog that features interviews with authors who have written a dog book for kids.
AOB: What is the title of your book? Pub date and publisher? Genre? Targeted age group? Illustrator?
MERCI MISTER DASH; Pub. Date: 2011, Tundra Books/Random House NYC.
MISTER DASH AND THE CUPCAKE CALAMITY; Pub. Date: 2013, Tundra Books/Random House NYC.
Genre: children's picture book; Targeted age group: 5-8 Illustrator: Esperança Melo.
AOB: Who is your key dog character and what kind of dog is he/she? Tell us a little more about him/her.
Mister Dash, a well-mannered dog of many breeds. He always puts his "best paw forward."
AOB: In 70 words or less, provide a succinct plot description of your story.
In Merci Mister Dash! the reader is introduced to the three principal characters: Mister Dash, Madame Croissant, and granddaughter, Daphne. Mister Dash has little tolerance for Daphne's wild ways. Still, that doesn't prevent him from coming to the rescue when she gets into trouble.
In the companion book, Mister Dash and the Cupcake Calamity, Madame Croissant has a cupcake delivery business and Mister Dash is her delivery dog. On baking day, Daphne arrives and kitchen chaos ensues. Will they be able to meet the mayor's large order? Or will the business go bust?
AOB: Starred reviews or blurbs you wish to share:
"Young readers will enjoy each of the three main character's bigger-than-life personalities — and teachers may challenge students to think about which one they connect with most." ~ Nerdy Book Club
"The ironic contrast between unruly child and peace-loving dog is great entertainment and, coupled with Melo's lovely illustrations, makes a joyful read." ~ Quill & Quire
"A good choice to generate discussion, this will appeal to energetic youngsters and dog lovers alike." ~ Kirkus Reviews

AOB: What inspired you to write this story?
I was walking my two dogs in a nearby park and heard someone call out their dog's name and it happened to be "Mister Dash" and the dog happened to be a standard poodle. I wrote the first story with that character in mind, but the first editor who saw the story said she didn't like stories "with poodles in them." Huh?! So I made a drastic about-face and turned Mister Dash into a dog of many breeds.
AOB: What was the biggest challenge you had writing your story? How did you overcome it?
The sequel was my biggest challenge. How do you make a story set in a kitchen, exciting? It took me several revisions.
AOB: What kind of story can we expect next from you? Is it about a dog? If so, what is it about?
I am currently working on revisions for Woo and the Laughing One, which is about the Canadian painter Emily Carr and her pet monkey, Woo. This story is being illustrated by Dean Griffiths, the same illustrator who gave Lumpito and the Painter from Spain its charm and beauty.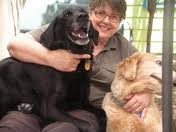 AOB: What else would you like us to know about you or your story?
I am a lover of dogs and have had two in my life for over twenty years. Not the same two, mind you! But I am also a lover of cats. We live with four fine felines.
AOB: Can you remember the first book that made an impact on you? And why?
I adore The WIND IN THE WILLOWS by Kenneth Grahame. The characters are lively and funny and their adventures are wonderfully heroic even though cast in a small woodland setting. I also adore CHARLOTTE'S WEB. Who doesn't?
Thank you so much for joining us today Monica Kulling at Dog Reads!