Q & A with Leslie Helakoski: DOGGONE FEET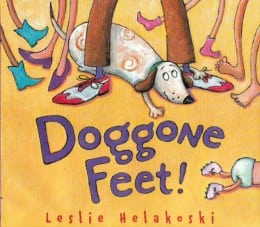 I'd like to welcome Leslie Helakoski to Dog Reads today.
AOB: What is the title of your book? Pub date and publisher? Genre? Targeted age group? Illustrator?
Doggone Feet!  Published by Boyds Mills Press, March 2013, ages 4-8, Author is also illustrator
AOB: Who is your key dog character and what kind of dog is he/she? Tell us a little more about him/her.
* This story is told from a dog's point of view starting with being a stray in the park and following a pair of legs home. The dog's job is to keep the floor under Leg's table clean.
AOB: In 70 words or less, provide a succinct plot description of your story.
* Doggone Feet! shares a dog's point of view from under the kitchen table where she reluctantly comes to appreciate all the feet that appear there as her family grows.
AOB: Reviews or blurbs you wish to share:
From International Reading Association: Because readers don't see the upper half of the humans until near the end of the book, the dog's point of view is enhanced. Having the illustrations and the text originate from a dog's perspective adds to this book's uniqueness.
From School Library Journal:  Large, bright acrylic illustrations fill each spread, conveying the familiar situation of family life with an exaggerated style. Children will giggle at the silly dog's point of view, but will appreciate the sentimental idea of a growing family.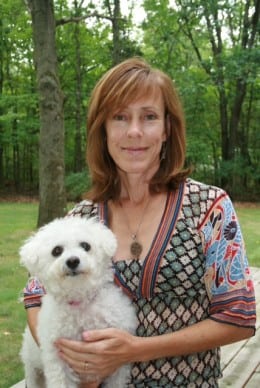 AOB: What inspired you to write this story?
*My dog always loved sitting under my kid's chairs as they were growing up because of all the crumbs and goodies that would fall close by.
AOB: What was the biggest challenge you had writing your story? How did you overcome it?
*The text was originally twice as long and I had to cut the copy along with a lot of humorous scenes. Cutting hurts! I had to work hard to shave off unnecessary information and stick to what really moved the story along.
AOB: What other YA/MG books have you written? Do any of them feature a key dog character? If so, which ones? 
*I've written 7 picture books with an 8th one coming out in spring 2014. Some titles are Big Chickens, Big Chickens Fly the Coop, Woolbur and Fair Cow. Most of my books are about farm animals but I'm working on a new idea right now that will be a big change for me.
AOB: What kind of story can we expect next from you? Is it about a dog? If so, what is it about?
*My next book, which I've also authored and illustrated is called BIG PIGS. It's about pigs competing to see who is the piggiest.
AOB: What else would you like us to know about you or your story?
*Kids can relate to this story as they will recognize much of the dog behavior and relate to the feelings that come up when the focus is shifted to new family members.
AOB: Can you remember the first book that made an impact on you? And why?
*Millions of Cats by Wanda Gaag. It probably impacted me because we often had litters of kittens when I was growing up and my sisters and I would get to choose one to name and have as our own. Making a choice like that is really hard to do just like the story shows. Also the lyrical language 'Hundreds of cats, thousands of cats, millions and billions and trillions of cats' was just fun.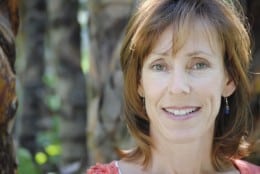 AOB: Where can readers go to find out more information about you and/or your books?
My website is helakoskibooks.com
You can find a link to a book trailer for Doggone Feet! or check out the detailed activity guide based on the Common Core State Standards.
Thank you for joining us today Monica Kulling!