Q & A with Robin Brande: DOGGIRL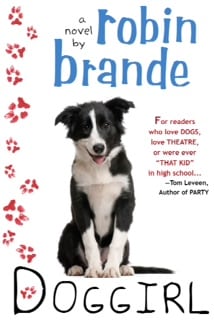 Let's welcome Robin Brande today to Dog Reads, a blog that features interviews with authors who've written a dog story for kids. She'll talk about DOGGIRL, a young adult novel for kids 12 and up published by Ryer Publishing.
AOB: Who is your key dog character and what kind of dog is he/she? Tell us a little more about him/her.
*There are three dog stars in the book:  Fig, a Great Pyrenees; Jack, a Border Collie; and Heidi, a Dachshund.  All are rescues of one sort or another, and are the best (and only) friends of a shy girl named Riley Case.  Her sole ambition is to become an animal trainer for the movies, so she practices every day with her pack of three.  The dogs are, as people around her are about to find out, quite fabulous.  *
AOB: In 70 words or less, provide a succinct plot description of your story.
*Riley Case is an expert with dogs, lousy with people. She's been keeping a low profile at her high school—well, except for that incident with the birds—but when the chance comes to use her talents as a dog trainer to help the drama department win a national competition, she knows she can't stay in the shadows any longer.
AOB: Reviews or blurbs you wish to share:
For readers who love dogs, love theatre, or were ever "That Kid" in high school, DOGGIRL by Robin Brande is a must-read. This story is absolutely adorable, yet steers clear of being syrupy as it explores the inimitable relationships between dogs and their people, as well as growing up on the fringe of high school life. Brande's mastery as a
character-driven storyteller is on full display here, with relatable characters (human and canine) and a keen journey as freshman Riley Case takes her first tentative steps beyond relationships with her "pack" and into the world of high school drama (both the literal and figurative kind). An excellent read, highly recommended!
~Tom Leveen, author of PARTY
It's awesome. Love all the dogs, love this character, Riley and I can't say enough about the message that resonates in this story. I would highly recommend this to adults and young adults.
~Pauline Tilbe, Goodreads
I loved this one. I just LOVED this one! . . . I loved DOGGIRL because it felt so honest, so genuine. It's a novel with a lot of heart. And it's not just a novel about a friendless girl finding a place to belong. It's a book for animal-lovers–specifically dog-lovers–and a book for those that love drama and theater–or creative writing, or film-making. It's for any one who has ever felt different. (It may just be a novel for everyone.)
~Becky Laney, Becky's Book Reviews
I read this in one sitting and I'm still smiling about it a few hours later as I type this. . . . I loved every bit of this book. The romance was subtle and doesn't overdo the plot at all (as it always is with Brande, which I like) and believable and . . . the dogs! The dogs! I'm more of a cat person but I loved these dogs. . . . This book is another example of a feel-good book that you can curl up with your own dog to read. It's all heart.
~Maya Espersen, Not on Shelf
Another great novel by Robin Brande. . . . I loved "Doggirl" as much as I loved "Evolution, Me, and Other Freaks of Nature" and "Fat Cat." Robin's ability to create characters that are real, and likable, and relatable is what makes her books as wonderful as they are. . . . A sweet and fun read, perfect for summer.
~Carly, Goodreads
I love this book to pieces. I really do.  I want to start reading it all over again just so I don't have to say goodbye to the characters.
~Michelle Halpern, 120 Books
If you like dogs at all (even a tiny bit) stop what you're doing and buy this eBook. Seriously, if you have a soft spot for animals, you are going to want to read this book. Robin Brande has written a story that will pull on your heartstrings. . . . [I]t's definitely one to pick up if you're looking for something which addresses more serious issues like bullying and social anxiety, while still remaining sweet and light.
~Ashley, Book Labyrinth
Love animals? Love reading? Love Young Adult books? Even if you answered just one yes, you will love DOGGIRL. . . . Robin Brande captures all the coming-of-age ups and downs, from the anxiety and depression from not fitting in and getting bullied, to the triumphant joy of finding that special group, and even that one cute guy, who likes you just the way you are. I adored it and especially appreciated that while true to the high school experience, it's also something that all my kids can read. (No explicit profanity or sex, thank you very much!) Highly, highly recommend – a wonderful summer read!
~Shiela Calderon Blankemeier, Writings, Workouts, and Were-Jaguars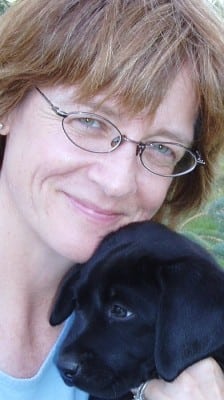 AOB: What inspired you to write this story?
*When I was growing up, I so desperately wanted a dog, but my parents wouldn't let me have one.  (I know.  They were terrible.  Hi, Mom!)  So instead I read every single book I could find at the library that had a dog on its cover.  I'm sure I read hundreds.  And now that I'm a writer, I decided it was time to carry that torch forward and write one of my own for people who love animals as much as I do.
By the way, I finally do have dogs of my own.  The dogs in this book share quite a few of their personalities! *
AOB: What was the biggest challenge you had writing your story? How did you overcome it?
*My biggest challenge was writing the play within the book.  I used to be in Drama in high school, and I drew on a lot of those experiences to create a play that I thought would be fun.  I also participate as a screenwriter every year in a competition called the 48-Hour Film Project, in which I speed-write a script so that a team of actors, director, and crew can produce a complete short film within 48 hours.  Very fun, but also pretty stressful!  So it's possible that the character Danny in DOGGIRL, the hyper, slightly-irritable, constantly-stressed writer/director of their play, might be based on me.  *cough*
AOB: What other YA/MG books have you written? Do any of them feature a key dog character? If so, which ones? AOB: What are these stories about?
*EVOLUTION, ME & OTHER FREAKS OF NATURE (2007):  Features a pack of puppies!  And a girl starting high school among people who used to be her friends and are now her worst enemies—all because she tried to do the right thing.
FAT CAT (2009): No animals, despite the title!  Sorry.  Just a fun story involving a high school science student who decides to turn herself into her own science project.
PARALLELOGRAM series (2011-2013):  High school physics genius Audie Masters discovers how to journey to a parallel universe, where she meets the parallel version of herself.  One of the reasons that parallel version is so much cooler?  She has a dog—an awesome Labrador named Red.  Adventures ensue.  The dog is part of it all.
REPLAY (2012):  High school athlete Cara Campbell dies during surgery.  The doctors revive her, but what happened during those 42 seconds of death will change everything about her life.  (No dogs.  Again, sorry.  But as with FAT CAT, I hope I've made up for that with a very dreamy guy.)
SECRET SECURITY SQUAD series (2012-2014):  Underground group of junior-highers form a squad to take back their school from the bullies and other destructive forces.  Yes, there are dogs!  Dogs who are being trained to do even more than Riley's dogs in DOGGIRL.  More to come as the series progresses.
AOB: What kind of story can we expect next from you? Is it about a dog? If so, what is it about?
*I'm currently working on the last two books in the PARALLELOGRAM series.  Those will both feature the yellow Labrador Red.  And since all of my dogs have made appearances in my books, I know I'll be writing one some time in the near future featuring a black Lab named Moose.  He's the latest addition to our pack.
AOB: Can you remember the first book that made an impact on you? And why?
*It's not my first, but it was my first gut-wrenching cry—of course because it featured dogs.  WHERE THE RED FERN GROWS by Wilson Rawls.  Those of you who have read it know why you can never forget it.  I reread it a few years ago, and I bawled just as much as I did when I was a kid.  That book was amazing.  I also really loved ISLAND OF THE BLUE DOLPHINS by Scott O'Dell.  Why did I read that book?  Dog on the cover.  Great story of a girl surviving alone—with her faithful dog, that is—on a deserted island.
Thank you for joining us at Dog Reads, Robin Brande!