Q & A with Margarita Engle: MOUNTAIN DOG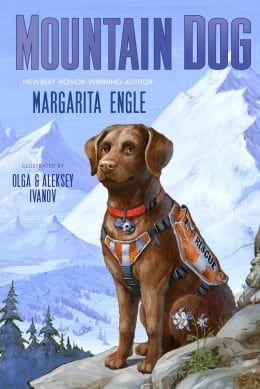 We welcome Margarita Engle today who will share some inside information on her recently launched book, MOUNTAIN DOG.
What is the title of your book? The pub date and publisher? Genre? Targeted age group?
*MOUNTAIN DOG (August, 2013, Holt/Macmillan)
What kind of dog stars in your story?
* Labrador Retriever
Where is it set?
*Sierra Nevada Mountains of California
In 70 words or less, provide a succinct plot description of your story.
*Tony has been raised in a dog fighting home in Los Angeles, but when his mother is arrested for animal cruelty, he goes to live with his great-uncle, a forest ranger.  In the mountains, Tony is befriended by Gabe, a search and rescue dog trained to find lost hikers.
How are you connected to the setting of your story?
*I grew up in Los Angeles, and now I live in central California, where I help my husband with his volunteer work as a search and rescue dog trainer/handler.  My role is hiding in the forest, so the dogs can practice finding a lost hiker.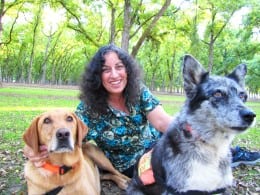 What inspired you to write this story?
*I originally wrote it as a short story, for Ann Martin's anthology, Because of Shoe and Other Dog Stories.  When she asked me to expand it into a full-length middle grade novel, I decided to write it in free verse, using the boy's voice and the dog's for alternate chapters.  It was glorious fun!
What was the biggest challenge you had writing your story? How did you overcome it?
*All my other novels in verse are set in my mother's homeland, Cuba, so it felt strange to write about California, even though I was born and raised here.
What kind of story can we expect next from you? Is it set outside of the United States? If so, where? And what is it about?
*My next novel in verse is SILVER PEOPLE, Voices From the Panama Canal (Harcourt, March, 2014).  It is about the Caribbean islanders who were recruited to do the hard work of digging (by hand, with shovels!) while subjected to U.S.-imposed racial apartheid. It is also a love letter to the tropical rainforest, a place I absolutely love.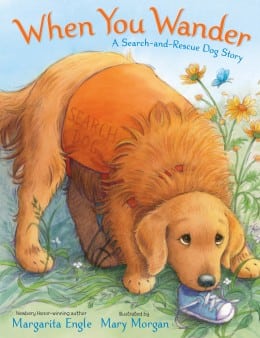 What else would you like us to know about you or your story?
*MOUNTAIN DOG isn't my only book about search and rescue dogs.  I also have a picture book for younger children, WHEN YOU WANDER (Holt/Macmillan, April, 2013).
Can you remember the first book that made an impact on you? And why?
*The Black Stallion was my first favorite animal book, but I also read Call of the Wild, and White Fang.  I loved anything that showed a close relationship between man and nature.  Island of the Blue Dolphins eventually became the book that had the greatest impact on me, during my young adult years, because I felt such deep empathy for the last speaker of her language (decades later, I learned that my own ancestry is Taíno, a Cuban Indian tribe that survives only in DNA, but lost its language and customs during the Spanish Conquest.)
Where can readers go to learn more information?
Thank you for joining us today, Margarita Engle.