Q & A with Audrey Vernick: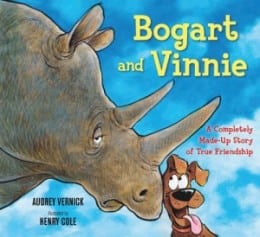 Let's welcome Audrey Vernick, author of Bogart and Vinnie: A Completley Made-Up Story of True Friendship
AOB: Pub date and publisher? Genre? Targeted age group? Illustrator?
*Bogart and Vinnie: A Completely Made-Up Story of True Friendship, illustrated by Henry Cole. Walker (Bloomsbury), June 18, 2013, ages 4-8.
AOB: Who is your key dog character and what kind of dog is he/she? Tell us a little more about him/her.
*Vinnie is a crazy-happy dog who gets lost and ends up inside a nature preserve, where he encounters Bogart, a rhinoceros. Observers note that the two form a fast, charming, interspecies friendship. Closer observers (readers) may note that the friendship only exists in Vinnie's friendly, slightly clueless, crazy-happy mind."
When illustrator Henry Cole was about to begin work on the book, he asked how I pictured Vinnie, how I wanted him to look. But I said that when your illustrator is HENRY COLE, you just sit back and wait for the answer to that question. He may be a tiny bit more cartoony than I envisioned, but I love Vinnie.
AOB: In 70 words or less, provide a succinct plot description of your story.
*Vinnie, a crazy-happy dog, gets lost inside a nature preserve. He loves all the animals he meets there until he sees Bogart the rhinoceros, his new best friend. Everyone is charmed by the interspecies friendship, except Bogart. Word spreads quickly. Bogart and Vinnie become an internet sensation! Can their friendship survive the tolls of fame? Can Bogart survive Vinnie?
AOB: Reviews or blurbs you wish to share:
*"Enthusiastic Vinnie wears his doggy heart on his sleeve…diverting and comical." –Kirkus
"It's a witty, big hearted story that makes full use of this duo's comic talents while poking gentle fun at the human tendency to coo over interspecies friendships (and then turn them into children's books.)" -Publisher's Weekly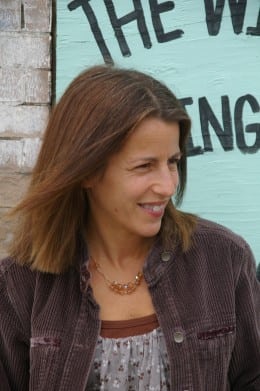 AOB: What inspired you to write this story?
* I was charmed when I first read Owen and Mzee. And the myriad nonfiction interspecies friendship books that followed in its wake. But at some point I came to question the use of the word friendship when applied to tortoise and hippo, orangutan and dog, elephant and dog, etc. I wanted to write about a perceived friendship in which one party (in this case, Bogart, the rhinoceros) is not at all, not one bit, interested in his so-called best friend.
AOB: What was the biggest challenge you had writing your story? How did you overcome it?
*There were many drafts of this book. At first, my editor thought I didn't do enough satirizing of the genre, so I created a draft that had nods of the head to Christian the Lion, Owen and Mzee, and Bella and Tarra. Then it was decided it would be better if the book stood alone—as a satisfying read whether or not one is familiar with the books I was satirizing, so those allusions were removed.
Vinnie is everydog, eager to be loved. I wasn't worried about readers connecting with him. But Bogart is a curmudgeon on his best day. He wants nothing more than to be left alone. I think it would be fair to say that I might not have overcome that, but Henry Cole, the illustrator, did. The facial expressions of Cole's Bogart would make almost anyone feel for him.
AOB: What other YA/MG books have you written? Do any of them feature a key dog character? If so, which ones? AOB: What are these stories about?
*I've written so many dog books but those must be the ones I can't get right as this is the first to be published. There's one picture book that's a couple of revisions from done that I hope will be my ultimate dog picture book.
My first middle-grade novel, Water Balloon, features a dog named Rig (short for Gehrig), based on my dog Rookie. Rig's owner, Marley, is having the worst summer—with recently separated parents and best friends who are outgrowing her—and I feel like the kindest gift I gave her was this wonderful dog. Rig even leads her to the yard of a neighbor, Jack, who helps salvage the summer.
AOB: What kind of story can we expect next from you? Is it about a dog? If so, what is it about?
*I just finished revision on Screaming at the Ump, a middle-grade novel to be published in April, along with a sibling picture book, Edgar's Second Word. I have another novel in progress—Army of One—which (at this early stage) is about a girl named Army in the difficult aftermath of the death of her beloved dog, Serendipity.
In 2015, I have two picture books coming out: Unlike Other Monsters and First Grade Dropout. And I have a variety of picture book manuscripts in various degrees of readiness.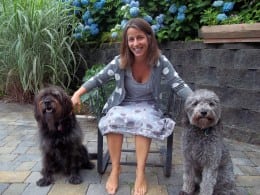 AOB: What else would you like us to know about you or your story?
*I love my dogs! Rookie is a twelve year old mini-labradoodle (large for a mini). Hootie is a two-year-old mini goldendoodle. Hootie was a rescue who, unbeknownst to us, came sick as could be with parvovirus. It was a brutal and rocky first two weeks with her hospitalized most of that time, but she's now our little miracle dog. A miracle dog who barks too much. But I'm working on it.
Everyone in the family has noticed that Rookie and Hootie have a very Bogart-and-Vinnie kind of relationship. Which cracks us up, as I wrote the book before Hootie was even born.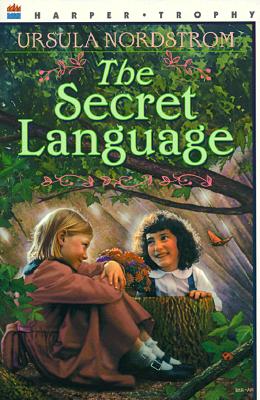 AOB: Can you remember the first book that made an impact on you? And why?
*I remember reading Ursula Nordstrom's The Secret Language and, amazingly, finding out that my friend Claire, who lived around the block, was reading it at the exact same time. We tried to make our own secret language—we were so in love with that idea—but it didn't feel as magical in real life as it did in the book.
AOB: Where can readers go to find out more information about you and/or your books?
*My website: www.audreyvernick.com
My blog: https://literaryfriendships.wordpress.com/
On twitter: @yourbuffalo
Thank you, Audrey Vernick for joining us at Dog Reads today! We look forward to hearing about your other dog books soon!