Q & A with The Writing Sisters–Betsy Duffey and Laurie Myers: DOG DIARIES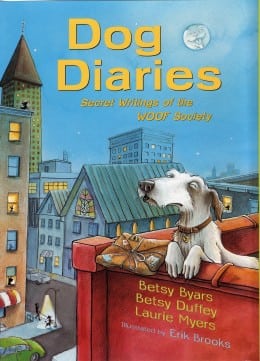 Let's welcome The Writing Sisters: Betsy Duffey and Laurie Myers today at Dog Reads, a blog that features interviews with authors who've written a story that features a canine character. Betsy and Laurie will discuss a book they wrote with Betsy Byars called Dog Diaries published by Henry Holt in 2007. 
AOB: Who is your key dog character and what kind of dog is he/she? Tell us a little more about him/her.
     Abu, thinks he rules Egypt
     Einstein, questions his name
     Pooch, concerned about a new "pet" in his house
     Tidbit, an unlikely star at the Grand Ole Opry
     Marcus, escapes the eruption of Mt Vesuvius
     Roscoe, a dog in love
     Mimi, gives her tips on etiquette
     Bo, captures a bank robber
     Jip, leads his blind master home from war
     Lucy, nurses orphaned kittens
AOB: In 70 words or less, provide a succinct plot description of your story.
In the first meeting of the WOOF Society, dogs of different backgrounds and breeds gather to hear the secret diaries of dogs throughout the world. Abu, the ruler of ancient Egypt is irritated by Miu, the royal cat.  Tidbit, born the runt of the litter becomes a star at the Grand Ole Opry.  Jip leads his blinded master back home after the Civil War. And others share their stories.
Starred reviews or blurbs:
Booklist:  "This collection of short stories combines the bedrocks of mass appeal: dogs, humor, and short chapters brimming with illustrations."
School Library Journal:  "The 11 tales that follow cover many aspects of the animals' lives and are by turns touching, funny, and sad."
AOB: What inspired you to write this story?
We wanted to write a third book together, so turned to our favorite topic – dogs! We love dogs and getting inside their heads we thought would be fun.  We were right!
AOB: What was the biggest challenge you had writing your story? How did you overcome it?
There weren't many challenges. This was our third book together so we were confortable working as a team, brainstorming ideas and coming to conclusions more easily. We did spend some extra time deciding how it would begin and end, and that just took time to try out some possibilities.
AOB: What other YA/MG books have you written? Do any of them feature a key dog character? 
We love dogs and you see them throughout our books; sometimes as main characters, sometimes just hanging out with the other characters.
AOB: What kind of story can we expect next from you? Is it about a dog? If so, what is it about?
We are working on a Christmas book, and YES, there is a dog in it.
AOB: What else would you like us to know about you or your story?
Bank Street list of Best Children's Books 2008
Young Hoosier (Indiana) Book Award Nominee 2011
AOB: Can you remember the first book that made an impact on you? And why?
Our mother used to read Robert McClosky's books to us: Make Way for Ducklings and Blueberries for Sal. We also made lots of trips to the library, which in our town was in the basement of the fire station. Interesting place for a library.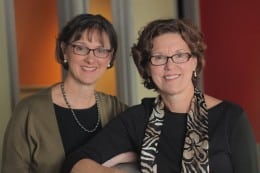 Thank you for joining us today, ladies! If you wish to learn more about the Writing Sisters click HERE. If you want to learn more about Betsy Duffy please click HERE. Click HERE to learn more about Laurie Myers.