Q & A with Melanie Crowder: PARCHED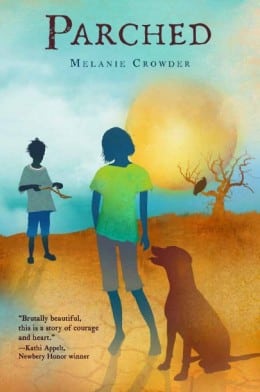 Let's welcome Melanie Crowder today at Dog Reads, a blog that features interviews with authors who have written a story for kids about a key canine character. Melanie will share her story behind her novel, Parched released by Houghton Mifflin Harcourt on June 4, 2013.
AOB: Who is your key dog character and what kind of dog is he/she? Tell us a little more about him/her.
Nandi is a Rhodesian Ridgeback and one of three point of view characters in this novel. To me, Nandi is the great mother, fierce and wise and true.
AOB: In 70 words or less, provide a succinct plot description of your story.
In this haunting, lyrical novel told from three perspectives, Sarel's parents are killed in a water riot. But she is not completely alone on the drought-ridden land. Nandi is the leader of a pack of dogs who looks out for her pups and for skinny Sarel-girl. Nandi knows they are all in trouble; she knows, too, that a boy is coming—Musa, the boy with the water song inside him.
Starred reviews or blurbs you wish to share:
"Brutally beautiful, this is a story that both inspires and sounds an alarm, a story of courage and heart. Just like Musa's ability to tap into water, it asks us to tap into our own humanity, even though it might be more deeply hidden than we can imagine."
—Kathi Appelt, Newbery Honor-winning author of The Underneath
"A thrilling, imaginative soul quencher. Crowder's stunning debut is sure to become a modern classic."
—Rita Williams-Garcia, Newbery Honor-winning author of One Crazy Summer
"The writing, especially the descriptions of the drought conditions and extreme thirst, is excellent."
—School Library Journal
Click HERE for a review from the Wall Street Journal.
AOB: What inspired you to write this story?
PARCHED began for me as a single aerial image of a girl trotting along a dusty game track, with a pack of ridgebacks eddying around her. I was pulled into the story by questions about who she was, and how she came to be alone and vulnerable in such a harsh environment. I began to explore by writing, and soon I discovered Nandi and Musa, and the devastating circumstances that would bring them together.
AOB: What was the biggest challenge you had writing your story? How did you overcome it?
Sarel and Musa cannot survive in this story's harsh setting without each other, but both are stricken by grief and trauma, and neither is willing to trust the other. Showing that push and pull (while remaining consistent with the sparse tone of the story) and allowing Nandi to bring the two children together was a real challenge—I must have written those scenes a dozen times!
AOB: What other YA/MG books have you written? Do any of them feature a key dog character? If so, which ones? What are these stories about?
PARCHED is my debut novel, and I am thrilled that this story and these characters will be my first introduction to young readers.
AOB: What kind of story can we expect next from you? Is it about a dog? If so, what is it about?
I don't know which story will come next, but I'm currently working on two projects—neither with a canine character. One is a light-hearted adventure featuring a spunky Irish girl inventor, the transcontinental railroad, and dragons (!) while the other is a historical verse novel about a young immigrant girl pulled into the labor strikes of the early 20th century. The stories are polar opposites, but I love them both!
AOB: What else would you like us to know about you or your story?
Readers often ask me what category PARCHED fits into, and I really struggle to answer that question! It is middle grade, but for older, more mature middle grade readers. It is literary, but also an adventure story. It has just a dash of magic realism, but is also absolutely, hauntingly real.
I hope this book will open reader's hearts and minds, and cause them to look more closely at the way we treat others when our world is falling apart, and the way we treat the delicate balance of resources on this planet.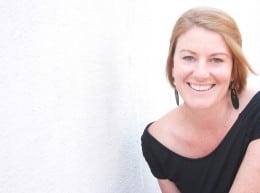 AOB: Can you remember the first book that made an impact on you? And why?
I always come back to the Ramona Quimby series. She was the first character I really connected with—we both grew up in Oregon, had the same awful bowl haircut, brilliant older sisters and the same mix of curiosity and innocent intentions that all too often ended in disaster. At last, someone who understood me!
Thank you Melanie Crowder for joining us today at Dog Reads. To learn more, click HERE.