Q & A with The Writing Sisters–Betsy Duffey and Laurie Myers: MY DOG, MY HERO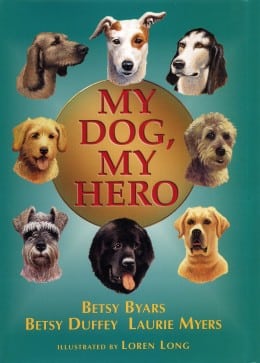 Lets' welcome the Writing Sisters: Betsy Duffey and Laurie Myers! What a cool thing you both get to do with your sister. How fun is that? To collaborate on books like:
My Dog, My Hero  released in 2001 by Henry Holt
AOB: Who is your key dog character and what kind of dog is he/she? Tell us a little more about him/her.
Bear, Dopey, Little Bit, Buster, Smiley, Old Dog, Blue, Munchkin (All heroes)
AOB: In 70 words or less, provide a succinct plot description of your story.
Eight dogs vie for the coveted My Hero award, but only one will win.  Will it be Smiley, who fought off a bull; or Blue, who saved his bark for when it counted; or Bear, whose magnificent strength saved a friend; or Munchkin who braved a snake; or one of the other heroic nominees?  Compelling and at times humorous, each story is told by a person whose life was changed by a dog's bravery.
Starred reviews or blurbs:
Booklist:  "Drama, humor, excitement, and love fuel these short well-written stories that are certain to be relished by dog lovers."
AOB: What inspired you to write this story?
One night over dinner we were brainstorming about books and how a book about heroic dogs might work.  We realized that it was a perfect idea for collaborative writing.  We have always loved dogs and growing up we had at least two, sometimes three, so it was a great fit for us, and perfect for our first collaborative book.
AOB: What was the biggest challenge you had writing your story? How did you overcome it?
Choosing the winner was a challenge because we loved all the dogs and couldn't pick just one.  We solved the dilemma by reading the stories to some third grade classes and letting them vote.  It was heart-warming to see that every single dog received votes.  The dogs were all so different and each one captured the heart of some of the readers.
AOB: What other YA/MG books have you written? Do any of them feature a key dog character? If so, which ones? AOB: What are these stories about?
We love dogs and you see them throughout our books; sometimes as main characters, sometimes just hanging out with the other characters.
AOB: What kind of story can we expect next from you? Is it about a dog? If so, what is it about?
We are working on a Christmas book, and YES, there is a dog in it.
AOB: What else would you like us to know about you or your story?
MY DOG MY HERO won the State Children's Choice Book Awards in:
         South Carolina
         Louisiana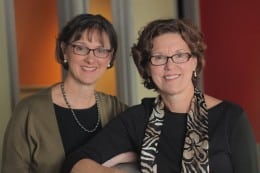 AOB: Can you remember the first book that made an impact on you? And why?
Our mother used to read Robert McClosky's books to us: Make Way for Ducklings and Blueberries for Sal.
Thank you for joining us today, ladies! If you wish to learn more about the Writing Sisters click HERE. If you want to learn more about Betsy Duffy please click HERE. Click HERE to learn more about Laurie Myers.