Q & A with Phyllis Naylor: SHILOH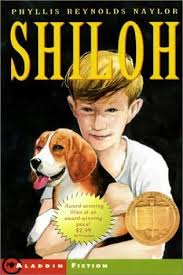 I am honored to invite Phyllis Naylor to Dog Reads today.
AOB: Who is your key dog character and what kind of dog is he/she? Tell us a little more about him/her.
Shiloh is a mixed breed who resembles a beagle in coloring.  In the story, she is an abused dog who runs away from her legal owner and takes refuge with an eleven year old boy.
AOB: Please provide a brief plot description of SHILOH.
When Shiloh runs away the second time, Marty Preston builds a little shelter for her in the woods, and secretly brings part of his own dinner to her, unknown to his family.  The parents, scraping by to pay for a grandmother in a nursing home, feel they cannot afford pets, and when a German shepherd leaps into the enclosure and wounds Shiloh, who cannot escape, the secret is out, and Marty is faced with returning the dog to her legal owner, or finding out a way to keep  Shiloh for his own.
AOB: What inspired you to write SHILOH?
I came across the little dog who inspired the book in Shiloh, West Virginia, when we were visiting college friends of my husband's.  I was so taken with this little skinny, tick-ridden, hungry, and desperately frightened dog that I knew, when we left for home, that I was going to put all my writing projects away and write a novel about her.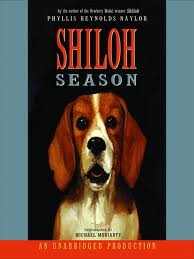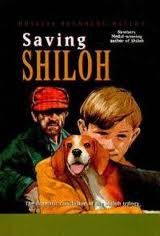 AOB: What was the biggest challenge you had writing SHILOH? How did you overcome it?
Even after Marty works for Judd Travers, the abusive owner of hunting dogs, and finally pays off the price for buying Shiloh from him, it doesn't guarantee that the angry Judd, mistreated himself as a boy, will not come across Shiloh alone in the woods sometime and, while drunk, shoot him.  To solve this, I had to write two sequels, Shiloh Season, and Saving Shiloh, and in the final book, I think I've convinced the reader that Judd is at peace with the fact that Shiloh has a new owner, and that he, himself, has changed.
AOB: What other YA/MG books have you written that feature or will feature a key dog character? 
I've been writing full time since 1960, and have written over 140 books, so it's difficult to remember if any of the others contained a dog.  I don't think so–the three Shiloh books have said it all.  It's hard to include a dog in a book and not let it become the main character!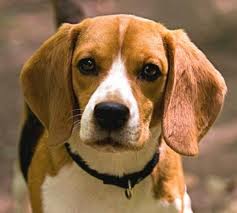 AOB: What else would you like us to know about you or your story, SHILOH?
Our friends in West Virginia finally adopted the dog I had discovered along the creek there and named her Clover.  They didn't know I was writing a book about her until they wrote us sometime later to say that they had taken the dog in.  Once I won the Newbery, they did, on request, take her around to schools and libraries so that children could see the "real Shiloh."  They would place her on a library table beside a stamp pad, and the kids would line up with their copies of Shiloh.  My friends would would take one of her paws, press it on the stamp pad, and "pawtograph" each book.  I asked how that frightened little dog reacted, and they said she really loved all the attention. But after about 30 pawtographs, she would simply lie down, roll over, and hold one paw in the air, as if to say, "Go ahead and use my paw, but I'm going to take a nap."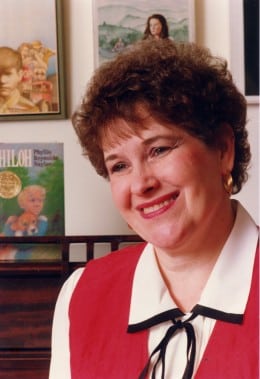 AOB: Can you remember the first book that made an impact on you? And why?
Huckleberry Finn, because my father read it aloud to us with great expression, and Huck faces a similar challenge in that book, which may be where I subconsciously got the idea for Shiloh–he has to choose between obeying the law–returning the slave to its rightful owner, or doing what his conscience tells him to do.

AOB: What was it like to win the Newbery Medal?
Incredible!  Many authors have some idea in advance that their book is on the short list for the Newbery, but I did not.  The title was never mentioned in any journal predicting the winner.  When I received the call in the early morning, I was eating my cereal, and afterwards, hanging up, my cats went on sunning themselves as though nothing had happened.  Then the phone rang again–the Today Show–telling me I needed to get to New York that night for the show the next morning, and after that, everything was bedlam.
To learn more about Phyllis Naylor or find other books she's written, please click here.
Thank you for your time, Phyllis Naylor!!
Please be sure to check out the Shiloh movies!