Q & A with Cat Urbigkit: THE GUARDIAN TEAM: ON THE JOB WITH RENA AND ROO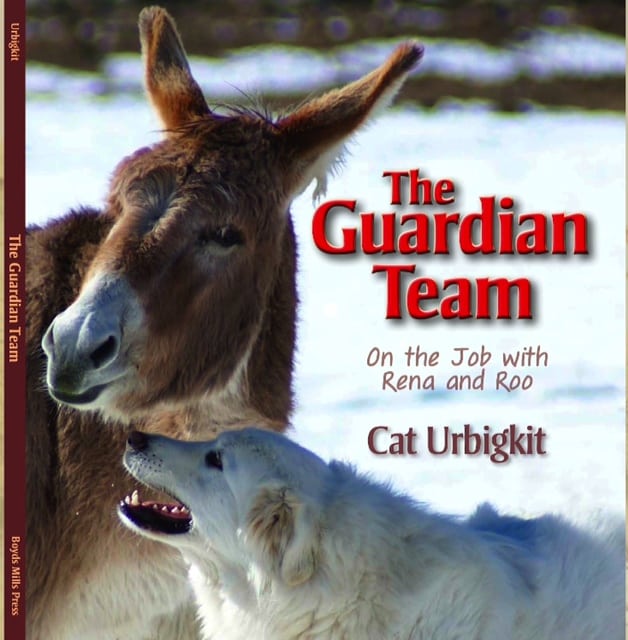 When I was a kid, I thought I would grow up and have a life like Cat's with a herd of sheep, some cashmere goats, and a lot of dogs. I also planned on becoming a veterinarian, but my love of travel and foreign cultures took over and led me down a different path. So I get to live the other life I often daydream about through people like Cat. Welcome to Dog Reads, Cat!
AOB: What is the title of your book? Pub date and publisher?
The Guardian Team: On the Job with Rena and Roo
October 2011, Boyds Mills Press
AOB: Who is your key dog character and what kind of dog is he/she? Tell us a little more about him/her.
* Rena was the runt of the livestock protection dog litter. She is a Turkish Akbash – a breed that has been used for thousands of years to guard livestock from predators. Rena went from being the smallest dog in the litter to the beautiful 130-pound beast that she is now.
AOB: In 70 words or less, provide a succinct plot description of your story.
* This is the true story of the runt puppy from the dog litter, six orphan lambs, and one scraggly wild burro. I put these animals together and photographed them for a year as they grew up together and became working partners. It's an Ugly Duckling type of story that is true, and was based on our Wyoming sheep ranch.
AOB: Starred reviews or blurbs you wish to share:
"This snapshot of animal dynamics presents a rugged picture of one surprising friendship." —Kirkus Reviews
"Heartwarming photos and clear, accessible text combine to make this story a winner. . . . Perfect for classroom–and family–reading time. Lovely." —School Library Journal
"A companion title to Brave Dogs, Gentle Dogs (2005). . . . Kids will be drawn by the immediate, cuddly drama that blends work and play, biology, and an affectionate pet story." –Booklist
2013 Book of the Year, American Farm Bureau Foundation for Agriculture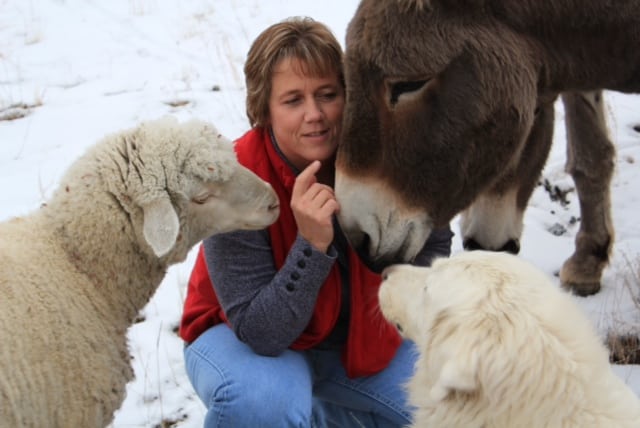 AOB: What inspired you to write this story?
* I live with these beautiful animals and am able to witness their close relationships. I realized that I'm one of the relatively few people who know such closeness exists between animal species, so I wanted to share this beauty with others.
AOB: What was the biggest challenge you had writing your story? How did you overcome it?
* The biggest challenge was figuring out where to end the story, because in reality the story continues with all the animals still on our ranch today. Eventually it became clear that this should be a 32-page picture book, and the significant events that couldn't be told outside that format should probably go into a future book. That's why I'm working on what I hope will be one of my next picture books, Raising Runt.
AOB: What other YA/MG books have you written? Do any of them feature a key dog character? If so, which ones? AOB: What are these stories about?
* I have written six other non-fiction books for children, and this book is actually somewhat of a companion book to my first title: Brave Dogs, Gentle Dogs: How They Guard Sheep. This book uses engaging photos to show how guardian dogs form a bond with sheep that lasts a lifetime. Brave Dogs has received much recognition and acclaim, including its status as an International Reading Association notable book. All of my titles for children are nonfiction photo essays.
AOB: What kind of story can we expect next from you? Is it about a dog? If so, what is it about?
*I'm working on Raising Runt, a picture book for very young readers. This 300-word photo essay follows one tiny white puppy growing up with lambs and becoming a large guardian dog protecting a sheep herd on the Wyoming rangelands.
AOB: What else would you like us to know about you or your story?
* The livestock guardian dogs that are the subject of so much of my work are what keep us in the livestock business here in western Wyoming – they are that important. We have predator populations that are expanding in both numbers and range, so the dogs are challenged by predators almost every day – from coyotes to wolves and bears. The guardian dogs are so gentle and caring for their sheep, and tend to baby lambs so carefully, and then become fierce when faced with a threat to their charges. It's a beautiful relationship, and hard work, and it seems to be intriguing fodder for audiences of all age levels.
AOB: Can you remember the first book that made an impact on you? And why?
*I was one of those kids who always had a book in my hands, so I have plenty of favorites. My very favorite book of all time is The Story of Ferdinand, by Munro Leaf. I try to live my life by the lessons offered in that book – namely to lead a peaceful existence, and do what makes you happy, regardless of what everyone else is doing.
AOB: Where can readers go to find out more information about you and/or your books?
* Check out my website and friend me on Facebook!
Thanks for joining us! I'd love to invite you back to learn more about Brave Dogs, Gentle Dogs: How They Guard Sheep.